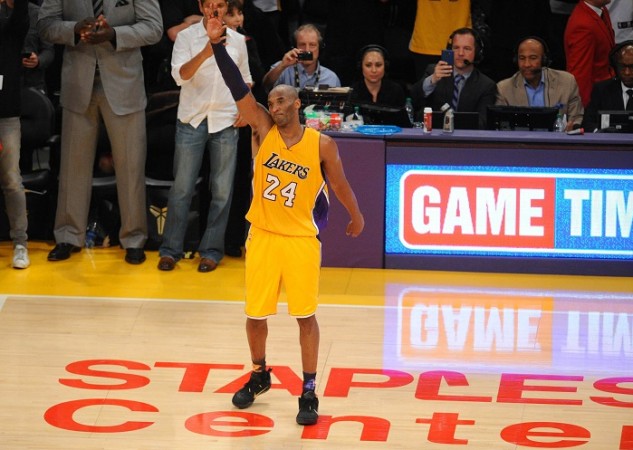 The emotions came out in the beginning, as tributes poured, superstars waited, to watch one of the greatest ever put on one final classic, and after 60 of the best points you will ever see in the 48 minutes of play for the last time in an LA Lakers shirt, the emotions came pouring out again, with Kobe Bryant getting the perfect sendoff in front of his own fans at the Staples Center.
It is hard to believe that Kobe will never play an NBA game again, and while there are memories, memories and more memories to cherish from an unprecedented 20-year career in Laker yellow, this one on Wednesday in Los Angeles will stay right at the top for years and years to come.
The only thing that was ever going to happen in this historic game, from second one, was "Kobe, Kobe, Kobe" chants and "shoot, shoot, shoot" every single time he touched the ball. Bryant obliged as well, putting up 50 shots in total, completing 22 of those, for 60 points, even if the start wasn't one that went according to plan.
Bryant missed his first five shots of the game, and the immediate worry was, "oh dear is this going to be turn out to be a bit of a nightmare?" Nah, not with Kobe. He is one of the greatest of all-time, the third in the list of all-time points scorers in the NBA, for a reason.
Just like that, the flow came, the basketball started hitting the net instead of the ring, and four shots in a row gave Bryant the momentum he needed. From there, it was about getting as many as possible, with Bryant shooting, driving, fading and then shooting some more.
Once Bryant got on court, the emotions took a backseat and it was all about getting down to business. After scoring 22 points in the first quarter, you knew Kobe would net at least 40, but the question was if he could get 50.
The third quarter got off to a great start as Bryant put in six points in 53 seconds, before the fourth quarter turned into the Kobe show, like it so often has in his career. There have been very few better clutch players in the history of the NBA, and Bryant showed he still has it in him to score the points when it matters most.
Off his 47th shot, Bryant got to 51 points, with a drive, then it was 53 and then, with a pure as silk three-pointer is was 56, bringing the capacity crowd, led by the likes of Shaquille O'Neal, David Beckham, Jack Nicholson, Kanye West and Snoop Dog, to their feet.
With that three-pointer, Bryant made an oh-the-Lakers-are-not-going-to-win-this game to a one-point game. And then, he did what he has done all his career, he made the pressure shot, a beautiful jumper just inside the three-point line to go to 58 points and give the Lakers a 97-96 lead.
The LA Lakers played solid D to get a stop in the following possession, and then Bryant was fouled, twice, to give the living legend an opportunity to hit 60 points from the free throw line. Two free throws hit nothing but net.
Those points gave LA a three-point lead, and a quick one in transition made it a five-point game, and 101-96 win, bringing on the cheers and tears one final time as chants of "Kobe, Kobe, Kobe" rang around the Staples Center, again, one last time.