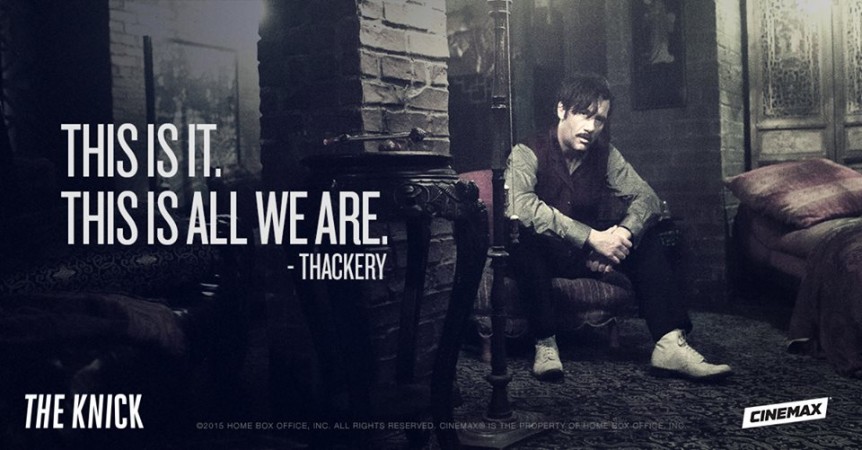 Steven Soderbergh, director of American drama series "The Knick," has suggested that though the fate of Dr. Thackery (Clive Owen) is not certain for the upcoming season, Owen might get to play another character as there will be a significant time jump between Season 2 and Season 3.
In an interview with Vox, Soderbergh said that chances are very slim that Clive Owen will return back as Dr. Thackery in Season 3 as his character was killed in Season 2 finale titled "This is All We Are."
However, he hinted that as the series might be going through time jump, there is a possibility that Owen would be playing an entirely different character.
"I don't know yet. There's been a lot of discussion about if we switch time periods can we still bring back the cast but have them play other people. Everything's on the table," Soderbergh said.
Talking about the new elements in Season 3, Soderbergh explained: "We always envisioned The Knick in two-year increments with the idea of annihilating what came before every two years. What we're trying to do now, I just met with writers and creators Jack Amiel and Michael Begler yesterday to build our idea of what three and four might look like to get ready to present to everybody. It's pretty extreme, but I think it should be."
Soderbergh had also stated previously that he might not return for the third season. However, he told Vox that if the show runners can achieve what he is hoping, story-wise, then he would like to keep going.
Jack Amiel and Michael Begler, creators of "The Knick," are discussing the prospect of a third and fourth season with Cinemax too. Therefore, the series might see light of the day sooner than expected.
Though there is no official confirmation regarding the release date of Season 3, it is expected to be broadcasted by the end of this year or in the first half of 2017.