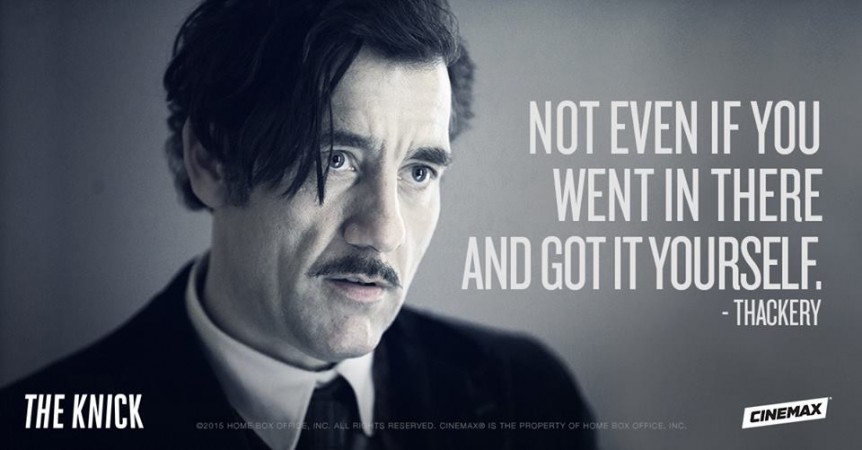 The first two seasons of Cimemax' drama series "The Knick" were met with a positive response from fans and critics and viewers are eagerly waiting for the next season of the series. However, it seems that Cinemax might not continue with Season 3 and the series might get cancelled.
There has been no official confirmation regarding Season 3 of "The Knick" and there is a significant possibility that the series might get cancelled. However, if Cinemax decides to continue with the story, Steven Soderbergh has hinted that he might return as the director.
Soderbergh, who had directed the first two seasons, said that if the third season happens, it will be "pretty extreme."
As reported by Vox, Soderbergh explained his return and how different the next season will be from the previous two seasons of "The Knick."
"If we can achieve what I'm hoping, story-wise, then I'd like to keep going. What I hope will happen is that we will figure something out that I feel like, 'I have to do this,'" he said.
Some recent rumours surfacing on internet also state that Jack Amiel and Michael Begler, who wrote and co-created the series, are in talks with Cinemax regarding the third and a potential fourth season. However, neither the creators and nor Cinemax has confirmed about it.
Talking about his idea of the further seasons of "The Knick," Soderbergh said: "We always envisioned The Knick in two-year increments with the idea of annihilating what came before every two years. What we're trying to do now — I just met with writers and creators Jack Amiel and Michael Begler] yesterday — is build our idea of what three and four might look like to get ready to present to everybody. It's pretty extreme, but I think it should be."