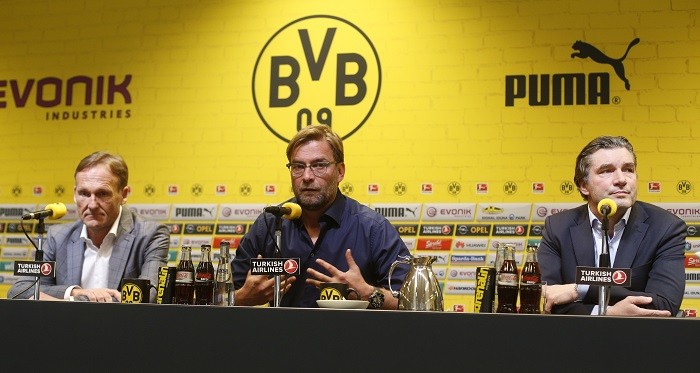 Borussia Dortmund manager Jurgen Klopp has shocked the football world saying that he will be leaving the Westfalenstadion at the end of the season.
The 47-year-old, who has been the manager of Dortmund since 2008, has found a lot of success during at Westfalenstadion, winning many trophies including two Bundesliga titles (2010/11, 2011/12), a DFB-Pokal (2011/12) and two DFL-Supercup (2013, 2014).
However, Dortmund have been very poor this season as they are currently 10th in the Bundesliga and have already been knocked out of the Champions League.
Their only hopes of securing a trophy this season is in the form of the DFB-Pokal as they have managed to reach the semi-finals of the competition.
Despite Dortmund's disappointing performances this season, no one was expecting Klopp to leave especially due to him having three more years left on his current deal at Westfalenstadion.
But the German surprised everyone by announcing that he will be leaving Dortmund after the end of this season, insisting that he no longer feels that he is the "right coach" for Dortmund.
"I always said in that moment where I believe I am not the perfect coach anymore for this extraordinary club, I will say so," said Klopp in a news conference, according to the Independent.
"I believe this is the right decision at the right time. I have in the last weeks and days asked myself if I was still the right manager and I wasn't sure. I couldn't answer with a yes."
Klopp says that he has not quit to take a break from football, although he insists that he does not have another job lined up.
"I have not had any contact with any other clubs, nor have I any plans to take a sabbatical," added Klopp. "I just wanted to make my decision known now so that the club can plan for the future."
The German admits that his inability to hold on to Dortmund's star players (Mario Gotze and Robert Lewandowski, who left the club to join rivals Bayern Munich) in the last couple of years is also one of the reasons behind him leaving.
"I chose this time to announce it, because in the last few years, some player decisions were made late and there was no time to react."
Klopp will certainty not be unemployed for long as a number of clubs including Napoli, Manchester United, Arsenal and Manchester City have been after him in the past.
Although Manchester United and Arsenal are not expected to make a move for Klopp due to Louis van Gaal and Arsene Wenger doing pretty well of late, Napoli and Manchester City may be approaching the German when he leaves Dortmund this summer.