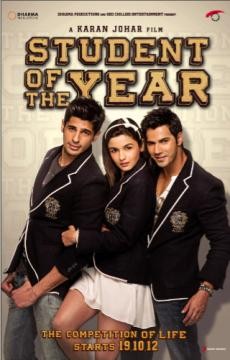 Filmmaker Karan Johar is coming up with his much-awaited film "Student of the Year" in October this year and is launching three fresh faces - Siddharth Malhotra, Varun Dhawan and Alia Bhatt.
The producer-director has recreated the "Disco Deewane" magic by adapting the same track in his film.
To make sure the new song has a tint of freshness, it has been modified by music director Vishal Shekhar and sung by Sunidhi Chauhan. However, a few portions from the 1981 superhit song has been kept intact.
The reworked song will be premiered today across 16 music channels, FM and several websites between 8:00 pm to 8:30 pm. All the music channels have spared a half hour slot exclusively to the film in which "The Disco Song" will be played.
"Ready to DISCO tonight at 8pm!!!!" the producer announced on Twitter.
The teaser has already been released on YouTube. It features all the three lead actors who will debut in the film.
"It's a great adaptation. Vishal and Shekhar came up with the idea of revisiting the song. The picturisation by Remo is super cool and the three debutants have really rocked and rolled to this disco track," Karan said according to The Times of India.
"I honestly hope the song climbs charts the way we would love it to!'' he said.
The old album was sung by Pakistani singer Nazia Hassan and produced by Biddu and was a major success across the globe. It was in fact the first South Asian pop album to top the charts in several other countries including Brazil, Russia, Africa, America and UK among others.
Check out the teaser and the exclusive video of "The Disco Song":