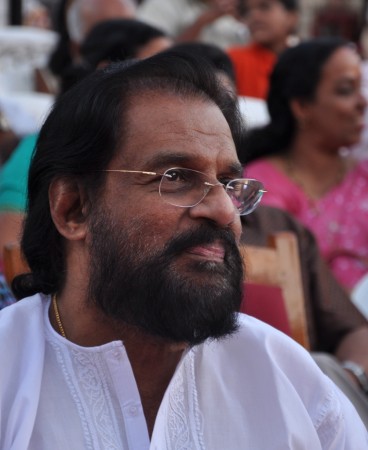 Legendary singer K.J. Yesudas' comment on women wearing jeans has kicked up quite a storm on social media.
The singer made the statement while speaking at the inaugural function of the Gandhi Jayanthi cleanliness drive at the Sri Swathi Thirunal College of Music in Trivandrum, Kerala. He also noted that women should not provoke others by wearing these western attires.
"What should be covered must be covered. Women should not trouble others by wearing jeans. When they wear jean, all you can notice are the things beyond those jeans. Women should not try to become like men but must behave modestly. The attire is inappropriate of Indian culture and what lends beauty to a woman is her modesty and politeness," said 74-year-old singer.
He also added that jeans clad women must not try to arouse the passions of vulnerable men, who might be led into temptation and it is a big sin if women try to arouse these passion in men.
Yesudas' comments have stirred controversy and have invited the ire of all sections of the society. Comments and opinions flooded social media platforms soon after the news of Yesudas' opinion became public. Many called the singer's remarks as sexist and demeaning.
"Did Yesudas, who spends many days in America, fails (sic) to know about the changes in Kerala society. His retrogressive comments were not fitting for a civilized society," Mahila Congress State President Bindu Krishna told The Indian Express.
Most of the social media users expressed their outrage on the singer's comments.
"Dear Yesudas, so sad u feel 'troubled' & threatend by women's bodies. Y not cover yr eyes? Instead of asking women to cover themselves up!," tweeted social worker Kavitha Krishnan.
Meanwhile Bollywood music composer Vishal Dadlani said he is disappointed with Yesudas' "small-minded and sexist world view".
"Yesudas-ji, women can and should wear what they like. Men need to stop thinking that being horny is an excuse to do whatever they like. See? Deeply disappointed that Yesudas-ji, someone I've always admired as an evolved singer, has such a petty, small-minded and sexist world-view," tweeted Vishal Dadlani
A section of social media opined that the Yesudas should stick to what he is best at.
"Maybe legendary singers like Yesudas should stick to what they do best?" said journalist Rajdeep Sardesai
Few social media protesters went a step ahead in their remarks. They posted Yesudas's daughters in law's pictures of them wearing jeans and called him a hypocrite.
Both D-in laws of #yesudas can wear jeans, but other shdn't . what a hypocrite Yesudas is.! @iamvijay do you agree? pic.twitter.com/8JPA7T8KSr

— Josey Devan Kerala (@indophilia) October 4, 2014