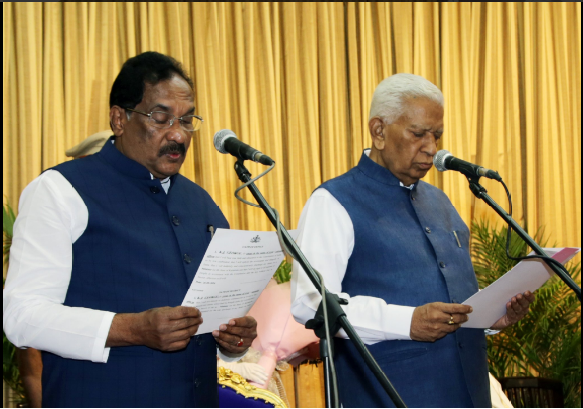 Former minister for Bengaluru Development and Town Planning KJ George on Monday took oath as a minister in Chief Minister Siddaramaiah's cabinet at a ceremony in Raj Bhavan after he was given a clean chit by the Karnataka CID in the deputy superintendent of police MK Ganapathy suicide case.
George had resigned on 18 July following the court's orders to the police to register a first information report (FIR) against him and two police officers for abetting Ganapathy's suicide. The court had issued the directive based on the complaint of Ganapathy's son Nehal, who had requested for action against the minister and police officers AM Prasad and Pranab Mohanty.
However, the CID, after probing the complaint, gave a clean chit to all three of them on 17 September citing lack of evidence.
Ganapathy was found hanging from a ceiling fan in a room at a Madikeri lodge on 7 July. He had given an interview to a local TV channel before killing himself, saying that George, along with Prasad (currently Commissioner for Traffic and Road Safety) and Mohanty (currently on central deputation as Additional Deputy Director General of UIDAI), would be responsible "if anything happens to me."
According to party sources, George, who has previously served as home minister, is likely to retain the Bengaluru Development and Town Planning portfolio.
Ganapathy's father MK Kushalappa and brother MK Machaiah had also moved the High Court seeking a CBI probe into the police officer's death as they suspected foul play in Ganapthy's death. They wished for a free, fair and impartial investigation that "could not be expected from the CID", the Indian Express reported.
ರಾಜಭವನದ ಬ್ಯಾಂಕ್ವೆಟ್ ಹಾಲ್ ನಲ್ಲಿ ಗೌರವಾನ್ವಿತ ರಾಜ್ಯಪಾಲರವರು ಸಂಪುಟ ಸೇರಲಿರುವ ನೂತನ ಸದಸ್ಯರಿಗೆ ಅಧಿಕಾರಪದ ಮತ್ತು ಗೋಪ್ಯತಾ ಪ್ರಮಾಣ ವಚನ ಬೋಧಿಸಿದ ಸಂದರ್ಭ pic.twitter.com/AwCR3yWZ55

— CM of Karnataka (@CMofKarnataka) September 26, 2016