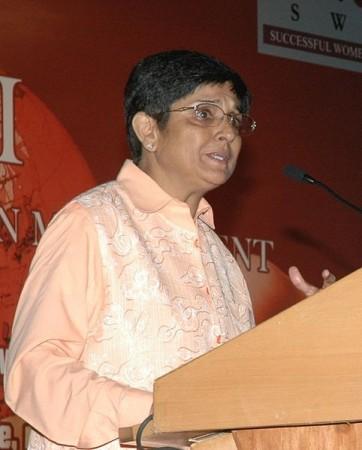 Anti-corruption activist Kiran Bedi has drawn intense criticism over her alleged remark, in which she charged the media for giving more attention towards "small rape" and assault cases over serious corruption issues against state ministers.
Bedi, who turned up at Ramilila Maiden on the fourth day of Yoga Guru Baba Ramdev's fast on Sunday in a bid to express support for his cause, found herself in a spot after she termed violence against women as "small rape" at the public podium.
"I have read the files relating to 15 Ministers who have charges of corruption against them, but the media never discussed any charges against even one of the alleged Ministers. Look at the extent of discussions you have when a police officer or a government official commits a 'small rape' or assault, but none of the media people discussed the corruption charges against any one of the 15 Ministers," The Hindu quoted Bedi saying to reporters.
The National Commission for Women (NCW) has singled out Bedi's comment and accused her of being "highly insensitive" towards rape crimes, in spite of her being a woman and a former IPS officer.
"Ms Bedi is a woman and a former police officer. She should have shown extreme sensitivity while talking about a serious crime like rape. There is nothing like a 'small rape'. A rape is a rape and should be viewed as a crime against humanity," NCW member Nirmala Samant Prabhavalkar said according to the Press Trust of India.
The NCW has demanded an immediate apology from the former top-cop has also threatened to serve a legal notice to Bedi in this regard. Television reports suggested that the commission for women activists would arrive at a decision after a meeting on Monday, when they are likely to take stock of the whole controversy.
On the other hand, Bedi denied debasing the meaning of rape. "I never said rape is small crime. I said when small ranked person commits rape crime he is hung while big ones go scotfree. It was about comparative punishment. Small officer (not small rape) involved in rape is hung while big ones go scotfree!" she said to the news agency.