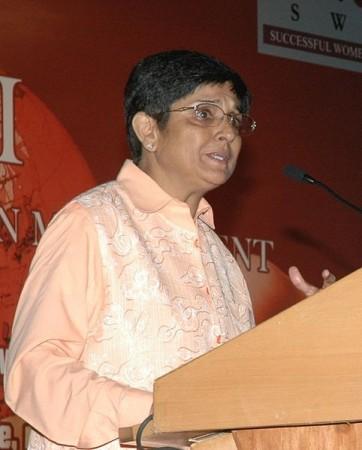 Civil activist Kiran Bedi and retired Army General VK Singh showed up at Ramlila Maidan, expressing their support to Yoga Guru Baba Ramdev, as the agitation against black money entered its fourth day on Sunday.
While addressing the crowd at Ramlila grounds, Kiran Bedi called protesters to form a coalition against the corruption. The former IPS officer has been leading the protest demanding the Lokpal bill and was a core committee member of disbanded Team Anna.
Earlier, Singh was seen sharing the protest dais with Anna Hazare and his supporters at Jantar Mantar. Now he has come out in support of Ramdev's movement as well. In an address to the crowd the retired Army chief reportedly promised to take forward the protest against black money stashed aboard.
Controversies surrounding Singh's age cropped up at the time he retired as the army chief. The government and defence ministry in particular raised several issues with regards to his age. He also kicked off uncanny speculations over the possibility of corruption involved in the defence sector by revealing an alleged bribe bid that was offered to him during his service.
Noting that his protests from Delhi's fast venue have failed to reach the big corridors of the UPA, the yoga guru on Sunday wrote a letter to Prime Minister Manmohan Singh. In the letter he has asked the Prime Minister to immediately take steps in retrieving the black money stashed abroad or face the "big revolution".
The government has remained defiant as it is yet to open any communication with Ramdev over his protest, even as his fast entered the fourth day.
Ramdev said that he and his supporters will not leave the fast venue without getting a decision from the government in meeting his key demands. And he warned to intensify the stir from the Ramlila itself if the government failed to respond to his call.
Ramdev has been spearheading the agitation against black money. His latest demands also include the passage of Lokpal bill and to keep the Central Bureau of Investigation free from the Centre's grip.
Ramdev is expected to announce his next move in continuing the agitation on Sunday evening.