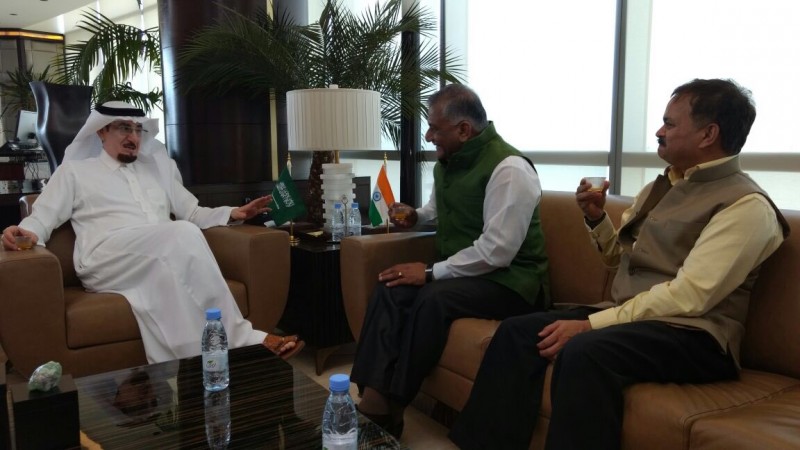 The King of Saudi Arabia has himself directed his officers to resolve the problems of thousands of Indian workers stranded in the country within two days, Minister of External Affairs Sushma Swaraj said in Rajya Sabha on Thursday.
"Saudi Arabia has said that exit visas will be given as asked by India for Indian workers there. (They have) informed that the process of sending back workers to India, will be done on Saudi Arabia's expenses. (The authorities) also said that Indian workers staying in camps will be provided medical and other facilities, food. India need not worry," Swaraj said in Parliament, while adding that Saudi authorities have "given approval to companies there who want to employ any of these Indian workers."
Meanwhile, Minister of State of External Affairs General Vijay Kumar Singh met Saudi Labour Minister Mufrej Al Haqbani in Riyadh who promised swift action to resolve the issues of all the workers who lost their jobs due to the economic slowdown in the country, according to local media reports. The Saudi government has promised free passage to Indians who wish to go back to their country and has also said that their dues would be cleared.
"The problem was only with one company. The Government of Saudi Arabia took measures to ensure that people working in that company are taken care of. Who want to go back can do so at the expense of Government of Saudi Arabia, they can file claims. The people can transfer to other companies," Gen. VK Singh told reporters, while adding that the situation wasn't as bad as projected.
Singh also received the first batch of Indian Haj pilgrims in Medina earlier today. He reached Saudi Arabia on Wednesday to take stock of the situation and bring back Indian workers from the Gulf country.
Around 7,700 unemployed Indian workers have been given shelter in 20 camps. The Indian Consulate is still collecting information about other Indian workers residing in different parts of the country, NDTV reported.