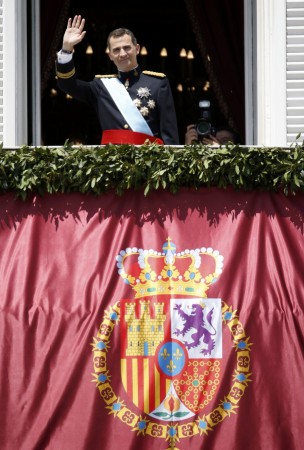 Swearing in as the new king, Felipe VI called for "a new Spain that we will build together", even as he faces the big hurdle of winning back the trust of the people, after the image of the royal family was tainted by his father and sister in recent years.
Felipe VI acceded to the throne at the stroke of midnight after King Juan Carlos, mired in controversy, formally abdicated on Wednesday. With a considerbale number of Spaniards still suffering economic hardships, observers say the event has been kept low key deliberately.
A teary-eyed Juan Carlos sealed his abdication of the crown on Wednesday, ending a four-decade long reign. The 76-year-old passing on his thrown marked the first royal succession in Spain's post-Franco history.
During the swearing in, the new king Felipe VI, 46, took an oath promising to uphold the constitution before the speaker of the lower house of the Parliament proclaimed him the King, declaring: "Long live Spain! Long live the king!"
"You will find in me a loyal head of state who is ready to listen and understand, warn and advise as well as to defend the public interest at all times," stated the new king in his speech to the Parliament, stressing that he had great hope for the future of Spain.
"The monarch wants to be close to citizens... ensuring it can preserve its prestige and dignity," he continued, "Now more than ever, citizens of Spain are rightly demanding fundamental ethical principles should govern our public life. The king should not only be a reference but who serves all citizens of Spain."
Tainted Royal Image
Juan Carlos had announced he would step down from the throne and make way for his successor earlier this month, prompting widespread calls from Spanish citizens to abolish the system of monarchy altogether.
For much of his reign, Juan Carlos was one of the world's most popular monarchs. However, majority of the citizens lost confidence in him in recent years. His name has been tarnished, especially because of a long-running corruption investigation in which his daughter and her husband are involved.
Spaniards lost faith in Juan Carlos when it came to light that he was on a lavish elephant hunting trip to Botswana in April 2012, at a time when the country was struggling with an unprecedented financial crisis.