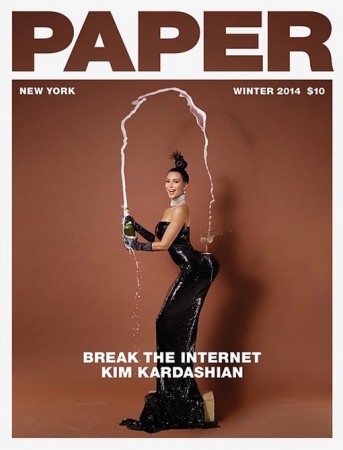 Kim Kardashian's controversial nude photoshoot for Paper magazine continues to make news. In the lastest, magazine editor-director Mickey Boardman has confirmed that 'touch ups' were done on her pictures before the final release.
"Every magazine is airbrushed at some level," says Boardman. However, he maintains that Kardashian's butt was not enhanced.
"...But what I will say is that her butt was not padded. It is not augmented. That is all really her. But, yes, there was retouching done to clean things up and make things look amazing," he admitted, according to US Weekly reports.
Kardashian's backside was just oiled up and the lighting helped add an artistic effect to the photos. It was Kardashian's makeup artist, Mario Dedivanovic, who had oil-sprayed her behind.
Ever since Kardashian's nude photos have surfaced online, there have been speculations about her butt size and thin waistline. Some rumours suggest that Kanye West's wife, Kardashian, does not have such a thin waist in reality, as shown in the photos.
"The real issue seems to be her waistline in the photos, which appears unnaturally narrow -- which is almost certainly the result of photoshop manipulation," reads an Inquisitr report.
Meanwhile, the editor has also shared the original idea behind the shoot. Initially, the plan was to re-create the famous champagne shot and some other shots featuring her backside.
"There was some a**-related thing that was proposed but we weren't sure what was going to happen," Boardman explained. "She came in and was like, 'Let's, you know, let's just go there!'
The actress does not mind taking her clothes off for photoshoots and is reportedly very confident about her body. For Boardman, she was the "easiest celebrity" to work with.
Famous photographer Jean-Paul took the bold shots. He is reportedly excited about the pictures. The most daring snap of Kardashian shows her standing on a wooden block, as she takes off her gown. She has a naughty smile on her face. A bottle of champagne and a glass lie beside her on the floor. In another photo she is seen balancing a champagne glass on her oiled butt.
Kardashian's Paper Magazine's photos can be seen here. NSFW. Proceed with caution.