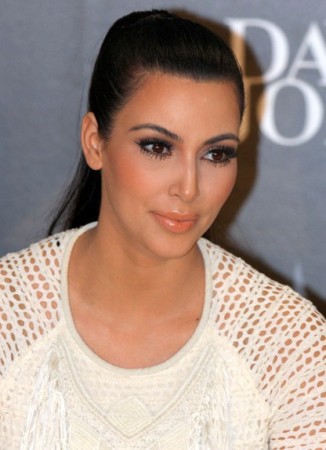 Kanye West has reportedly gotten a naked portrait of Kim Kardashian made and the art piece has the reality star wearing just a pair of thongs and Louboutins. The portrait was West's wedding gift to Kardashian and was painted by a street artist Bambi, who is based out of London.
West wishes to hang the painting in their room, reported Mirror. Apparently, he wanted a painting that was "regal but typically Kim". He commissioned the painting through Bambi's manager, Leonard Villa.
It is further reported that West has paid for the painting in five figures and has not reserved exclusive rights for it, which means anyone can get a replica of Kardashian's naked painting.
Interestingly, this is not the first time that the rapper has ordered a custom made art piece for Kardashian. On Dec 26, Kardashian was seen sporting a hand painted Hermes bag, gifted to her by West. World famous artist George Condo had painted the tan leather bag in nude figures. The portrait showed nude female figures and a bare-chested monster.
In the past thirty years, Condo has made a mark for himself in the world of art and his works have been exhibited all around the world. Kardashian was more than proud to own one of his art pieces.
It is interesting how West woos his ladylove with crazy gifts.
Meanwhile, Kardashian was recently spotted returning from her honeymoon. The "Keeping up with the Kardashians" star was seen walking out alone of the airport . She is reported to have had a great time while honeymooning in Ireland and Prague.
"Had the best most relaxing romantic honeymoon in Ireland & Prague! Missed my baby girl so much! Excited to be home to squeeze her so tight!" Kardashian expressed her excitement through a Twitter post.
Earlier it was reported that Kardashian hated her honeymoon and she was in a "miserable" state as it was raining all the time.
"Kim was "disappointed" with the honeymoon since it was super rainy and not as glamorous as she wanted," a source had revealed to Mail Online.
It was also said that the recently married couple ended up in a movie theater in a small town in Portlaoise and did not do many romantic things together.
"Not only did they skip the touristy stuff, they also spent an entire afternoon riding mountain bikes on the muddy and treacherous trails in the Ballyhoura Mountains north of Cork," a source had revealed, adding: "And that couldn't have been very romantic, not with two assistants and two bodyguards in tow!"
However, Kardashian's representative had debased the reports.
"Kim was very happy on her honeymoon. Kanye had a photo shoot he needed to stay behind for and Kim went home to North [West]," Kim's rep had said to Hollywoodlife.