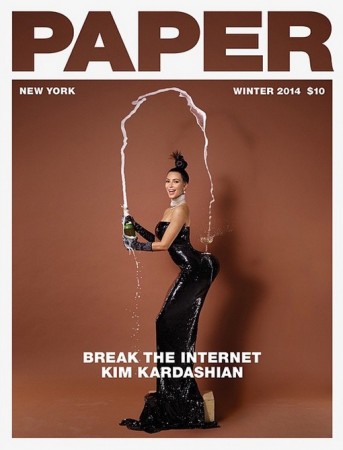 Kim Kardashian has created a major controversy, with her bare-butt picture, which has surfaced on the Paper Magazine's Winter 2014 edition.
The photo shows the reality show star, showing off her oiled backside, as she poses to dress down. The legendary photographer, Jean-Paul Goude, has shot her and reportedly, the idea behind the daring photo shoot was to "break the internet."
However, the image is rumoured to be photoshopped, as Kardashian's waist looks thinner than usual. "This is definitely a risque photo shoot, which we usually love, but we can't get over the fact that Kim looks photoshopped," says a Hollywoodlife report.
In another image, the model is shown balancing a champagne glass on her butt, for which she tweeted:
And they say I didn't have a talent... try balancing a champagne glass on your ass LOL #BreakTheInternet #PaperMagazine,"
She also took to Instagram and had all the praises for the photographer. "Paper Magazine new cover alert! - such a honour to work with the legendary Jean-Paul Goude!!! Shot this in Paris. Can't wait for you to see the whole issue," she wrote.
Along with Kardashian's racy pictures, there is a note, which calls her a "pop culture fascination." Interestingly, this is not the first time that Kardashian has created a stir with her naked pictures. She has previously shed clothes for British GQ magazine. In September, the magazine named Kardashian the woman of the year. In the photos, Kardashian has shown her envious figure, while using her hands to cup her breasts.
Her husband, Kanye West, is reportedly proud of her and he thinks that his wife has a flawless body. "He wants Kim to be recognised for everything that she is. Her hard work in the industry, her business ventures," a source told Hollywoodlife.
Kardashian got married to Kanye West this year and has a daughter named North West. Moreover, Kardashian is also rumoured to be pregnant with her second child. There is a major buzz, which says the couple would announce their second child's news during Christmas. If the rumour is true, then Kardashian would definitely be on the watch for her maternity style.