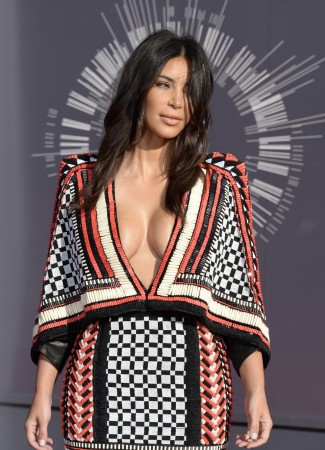 Kim Kardashian has fuelled pregnancy rumours by reportedly showing her alleged baby bump in a sexy teal blue gown at the LACMA Art & Film Gala.
Kim's baby bump reports came on the heels accidentally revealing at a recent interview that she might be pregnant.
In a recent chitchat with PixieWoo.com, the reality star was asked about her maternity style and her pregnancy fashion sense. She said that "bigger size of clothes may not be needed this time," sparking off speculations that she might be carrying her second child.
"I wore my regular clothes and tried to make it — I would just buy a size up. I don't know if I would necessarily do that this time around... ," Kardashian explained, as reported by OK.
The "Keeping Up With the Kardashians" had earlier revealed on Today's Show that she and Kanye West were trying to have another baby. "We're trying," said West's wife with a sly smile. "I guess, it's all in God's hands."
Moreover, it has been suggested that the power couple could make the announcement of their second baby this Christmas, according to Holllywoodlife.
It may be recalled that Kardashian was constantly pitched against Duchess of Cambridge, Kate Middleton, for her pregnancy style when she was pregnant with North West.
If Kris Jenner's daughter's second baby speculation come true, she could be once again compared to Duchess of Cambridge Kate Middleton who is also pregnant with her second baby.
Meanwhile, Kourtney and Khloe Kardashian added more fuel to Kim's pregnancy rumours in a recent interview to Hollywoodlife by naming Kim when asked who would welcome the next bundle of joy in the family.
"I hope that you [looking at Kourtney] are done for a while," said Khloe. She added that her sister want to have one boy and one girl.
Kourtney, one of the Kardashian celebrity sisters, is expecting her third child with partner Scott Disick. She has been flaunting her baby bump for quite a while now and has also decorated the nursery for the new arrival, according to reports.