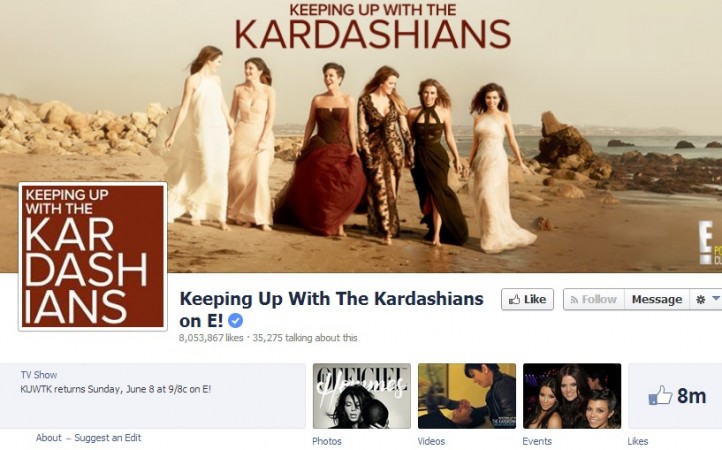 Kim Kardashian is reportedly quitting "Keeping Up with the Kardashians" show as she is expecting her second baby. According to 28 July edition of "Life & Style" magazine, the reality television star has decided to leave the show, as she does not want media scrutiny this time concerning her pregnancy.
"[Kim] recently screamed at her mom, 'I am done with the show!'" Hollywoodlife quoted an insider from the magazine.
"She's not eager to subject herself to all the negativity she received in her last pregnancy," the insider further shared, referring to the counter-attack Kim received when she was pregnant with her first child, North West.
The buzz of Kardashian not appearing in the upcoming seasons of "KUWTK" may disappoint her fans, but it is still not confirmed if she is pregnant with her second and quitting the show to avoid backlash.
Kardashian is understood to have increased her appetite and is a bit more lenient on her diet these days, as per the reports. Her change in diet has sparked off her second pregnancy rumours. Moreover, it is also been said that the celebrity couple has been wanting to have a second for a long time.
"If it was up to him (Kanye), Kim would have had a baby right after Nori," a source told the magazine.
Meanwhile, Kardashian recently made a controversial statement about pregnant women, suggesting that they should not step out in public. She even said that they should not style themselves and hide for one year in her interview to Glamour.
"I recommend hiding for a good year and having no pregnancy style. That's what I recommend. If you can do it, hide. Never leave the house. That's really my recommendation. Wear a huge blanket," she said.
Later, Kardashian took to Twitter to defend herself.
"I guess you can't be sarcastic when doing interviews! I was asked about tips on pregnancy style…..," the "KUTWK" star wrote. "I jokingly said pregnant woman should hide/stay in if they looked like I did lol. I said ask Kourt her tips bc she has the best preg style."
She further suggested in another tweet that everyone involved in the interview including her sister Kourtney and Khloe Kardashian were laughing at what she said.
"I really should start video taping the interviews I do & post on my website so u can see the laughs & how it's really said", she further wrote.