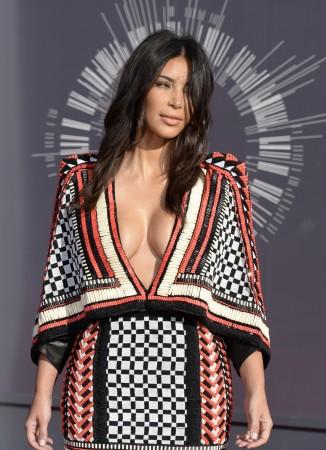 Reality television star Kim Kardashian is reportedly pregnant with her second child, just three months after tying the knot with her boyfriend Kanye West.
Celebrity gossip magazine In Touch Weekly has reported in its latest issue that the reality television star is expecting her second child with West. The magazine has Kate Middleton, Kim Kardashian and Jessica Simpson on its cover with the caption: "All about their cravings, weight gain and due date."
The magazine suggests that Kardashian is having trouble with her marriage to Kanye West and may raise the baby alone.
However, there is no concrete proof on Kardashian's pregnancy, as no one from her family has confirmed the news.
The 31-year-old reality television star had earlier said in one of her interviews that she is planning to have more kids but didn't say when.
"Hopefully I'll have more kids," said Kardashian during her appearance on Ellen DeGeneres show, as reported by E! Online.
Kardashian had also suggested that she would like to have at least two kids, as she is used to living with her siblings and would want the same for her daughter North West.
"Well, I just went to San Diego and to give my pregnant sister Kourtney Kardashian a break. I took care of my niece, nephew and my daughter. To bathe them all three, feed them, get them in the pajamas and down for bed I was literally, like, crying. It was so hard. Three kids. So, I'll go for two—but then again I have so many siblings and I love it. They're my best friends. I would want that for my kids," she told DeGeneres.
Meanwhile, Kim likes to pamper her one-year-old daughter North West. The little one reportedly owns a bevy of luxury items, including handbags from Louis Vuitton, Chanel and Hermes.
West was also seen carrying Louis Vuitton Candy bag worth £882 on one of the occasions.
Apparently, Kim and hubby Kanye West want to shower their daughter with all kind of opulent gifts. The couple wants to buy a Hermes Birkin bag each year for North so that she will have a huge collection of accessories by the time she turns 18. North got diamond earrings, a £30,000 doll house and a rare 400-carat pink pearl for her birthday earlier this year.