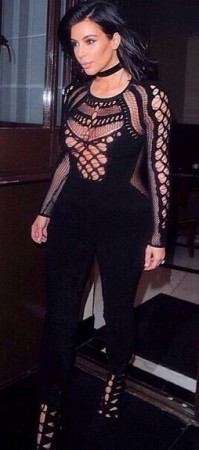 Going for a leather-look on the cover of the upcoming issue of Adweek, Kim Kardashian opened up to the magazine about her $200 million app, addiction to selfies, and her "normal" family.
The feature mainly focuses on the "Keeping Up with the Kardashians" star's successful and addictive Glu Mobile app, "Kim Kardashian: Hollywood," which made $74 million last year and is expected to rake in around $200 million this year. Kardashian is entitled to 45% of the total revenue.
The 34-year-old reality star said Glu Mobile had contacted her regarding the app and when she discussed it with her husband Kanye West, the rapper said: "Oh my God, you have to do a video game? It's so cool."
Meanwhile, she admitted to Adweek that she loves taking pictures wherever she goes, it's more like a hobby than an addiction. "So many people think that taking selfies is just ridiculous. For me, what's so funny is I love taking pictures and posting them on social media just for memories. I'm kind of letting them know, yes, it is ridiculous, but it's all fun," the mother-of-one told Adweek.
"I take it more as a fun, emotional scrapbook that I love to look back on."
Many people refrain from admitting they follow the socialite and really like her pictures. Kardashian has more than 29.5 million Twitter followers and over 27.2 million of Instagram fans, and the number is continuously increasing.
"It's not that I brand myself like I'm a celebrity," she said, adding: "It's just I'm living my life and sharing a part of my life with the world."
Speaking about the reality show, "Keeping Up with the Kardashians", she stressed that her family is normal. "I hope [people] get out of it that we are a normal family. They may not think we're normal, [but] we are a family like everyone else's that goes through so many different things and we're always there to support each other," she said.
"There's always a family member that someone can relate to...We still have a few more years left in us," Kardashian further explained.