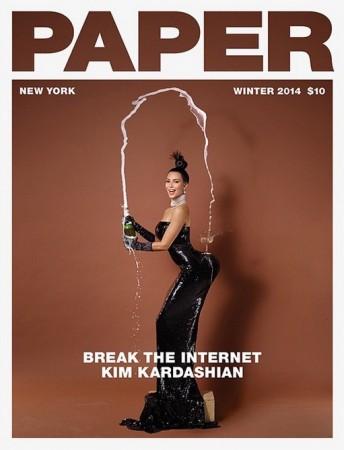 Over the past week, Kim Kardashian's nude pictures were perhaps the most talked-about and viewed topic on the Internet. Paper magazine's fame catapulted overnight and Kardashian too benefitted immensely from the publicity.
But what actually drove the 34-year-old mother to don her birthday suit despite the vow to never strip for the media?
During an interview on the Australian TV Show "The Project," Kardashian defended her decision to do the photoshoot.
"I was so honored and excited to work with [photographer Jean-Paule Goude] because he is a legend, and for me that was something I wanted to do to make myself feel confident. As a role model I'm not saying anyone else should do that, but for me it was an art project and it taught me to do what you want to do," she explained.
"I'm never one to preach, but I felt really positive and really good about myself. I love the photos, I did it for me, I hope other people like them," she added.
When the host asked her if the "balancing the glass on the butt" act was real, she said:
"My back hurt for about a week after that shoot... I used muscles..," she said adding "[Goude] has an art of posing you and it was definitely not comfortable."
Kardashian is in Australia promoting her fragrance "Fleur Fatale" and will be heading to two more countries to celebrate the launch of her perfume. Kardashian will be heading to India and Dubai in the next few weeks as part of her world tour.
Kardashian's latest fragrance is an addition to her already-existing perfume range. The scent "represents the modern girl who does it all."
After "The Project" interview, Kardashian was spotted in Melbourne at another promotional event. The "Keeping Up with the Kardashians" star was seen donning a blush-pink latex dress. Daily Mail has the photos.