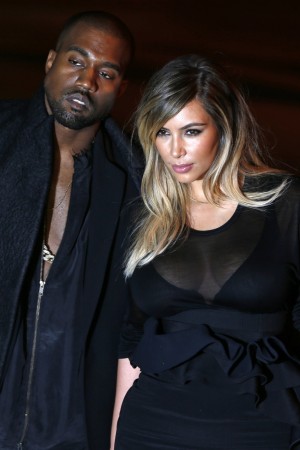 Kanye West and Kim Kardashian are all set to walk down the aisle in Paris on May 24. The recent buzz surrounding the Kimye wedding is West's alleged decision not to invite Oprah Winfrey. Apparently, the 36-year-old rapper is frightened by Winfrey's popularity and does not want his wedding to be overshadowed by the popular TV Show host.
"He really thinks Oprah's going to steal the show and the guests will all be talking about her and what she's wearing and trying to get their picture taken with her as opposed to being there, witnessing his marriage to Kim and celebrating them as a couple," a source close to the engaged couple revealed, according to HollywoodLife
West and Kardashian have always craved for immense media attention and on their D-Day they would obviously want to be the most talked about people. Previously, it was reported that Kardashian had a fight with her stepfather Bruce Jenner regarding the latter's alleged sex change operation rumor.
Reportedly, Kardashian was worried that if Jenner changes his sex before her wedding, all limelight would be on him. Various publications had reported sources saying that Kardashian did not want "Jenner to steal her thunder".
Keeping in mind the importance of Kimye's wedding, even Khloe Kardashian has decided to go stag.
"This isn't a red carpet event or date night. This will be her sister's wedding and that's where all her love, focus and attention will be," a source close to Khloe revealed, adding, "She doesn't need a man on her arm, especially at her sisters wedding," reported the website
Meanwhile, West wants Kardashian to relax before the wedding. He wants her to look her best at the wedding and that is why he is not bothering her with last minute problems and issues.