"Kim Kardashian Hollywood" a smartphone game that was recently launched and took the web by storm is reportedly facing some technical issues.
The game stopped working on Friday, after which numerous users took to Twitter to express how annoyed and disappointed they were.
The users are so upset that they have posted numerous messages on the reality star's Instagram page asking her to fix the game.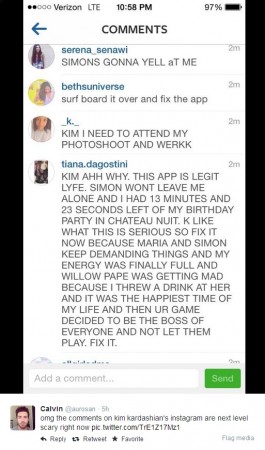 The game has become extremely popular among women since its release, and is the only title in the App Store's Top 10 with a five-star rating.
With the game's popularity, Kardashian can reportedly earn as much as as $85 million from it this year, according to Business Insider.
The basic goal of the game is to move from the E-list all the way up to the A-list. Its motive is to gain fans and to increase your fame by going to fabulous places and photo shoots.
While many may not be too fond of the Kardashian clan, this is one Kardashian game that has amassed quite a fan following.