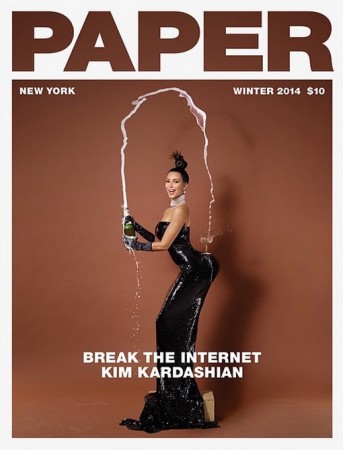 After creating a stir with a shocking butt photo for Paper Magazine, Kim Kardashian has gone and done it again, but this time she is fully naked. Kanye West's wife has shed all her clothes for the winter issue of Paper magazine.
The magazine shared the photo on its Twitter account. It can be seen here.
In the snap, the reality star is seen standing on a wooden block as she dresses down. Kim gives a naughty smile as she poses for the Jean-Paul Goude. A champagne bottle and glass lie next to her on the floor. "We know you came for the article. cc @KimKardashian http://bit.ly/1unICFv #BreakTheInternet," says the picture's caption.
In an earlier shot, the reality star is in a dramatic pose where she is seen successfully balancing a champagne glass on her booty.
Reportedly, Kardashian shot the photos with Goude in complete privacy. The photo-shoot was not pre-planned; it was an impromptu decision made by Kardashian and Goude.
"Kim went into the shoot with just the one cover image in mind: the champagne pic, because Jean-Paul Goude wanted to recreate his pic he took 30 years ago. That was it. But Jean-Paul and Kim hit it off and they asked everyone to leave and they both got creative. No publicist, no magazine execs," a source tells E News.
The shoot took place in September during Paris Fashion Week Spring 2015. Moreover, North West's mom was comfortable doing the daring shoot and had no qualms going naked.
"Kim was all game for anything and the art of it," the source added. The shine on Kardashian's back is a result of a special oil spray. Her make-up artist Mario Dedivanovic reportedly rubbed it on her.
It has been further reported that the mother of one does not care about the haters. She apparently says she will keep on doing daring photo shoots till the time she is in shape and moreover, her husband West loves them, according to the Website.
Kardashian has previously gone naked for GQ's British edition. She is also rumoured to be pregnant for the second time.