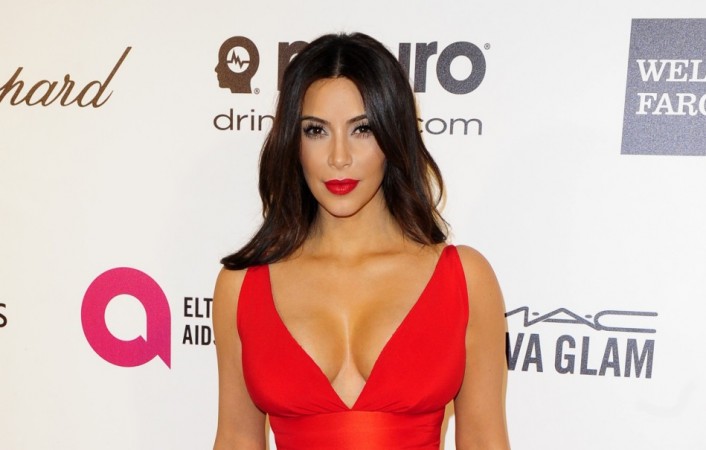 Kim Kardashian recently opted for a make-under for the Oxygen's "Celebrities Undercover" that has left her fans shocked.
The "Keeping Up with the Kardashians" star adopted an "Ugly Betty" style to disguise her appearance where she hid her curvaceous figure under a frumpy purple-colored frock. She completed her look by donning curly locks and specs.
Kim looked unrecognizable in her new avatar, as the make-up artist had used puffy face prosthetics and fake teeth to change her look.
In the series produced by Wendy Williams, Kim went undercover to quiz her fans on their Kardashian devotion. However, they had no idea that the lady behind the disguise was the reality star herself.
Kanye West's fiancée, as Cynthia, joined three of her fans who had come to her office thinking they were interviewing to be her assistant. The fans, who were not privy to the fact that they were sitting with their idol, gave Kim an opportunity to test their loyalty.
Even Kourtney Kardashian was unable to recognize her sister. When she arrived with boyfriend Scott Disick during the shooting of the episode, she talked to Cynthia, not recognizing her to be Kim.
Towards end of the episode, Kim revealed her identity by taking out her prosthetic make-up, which left her fans stunned. She gave the group a huge hug for being loyal to her.
Kardashain has a massive fan following, thanks to the reality show "Keeping Up with the Kardashians". The reality show star is known for her spectacular fashion sense and voluptuous figure.
Last year, she was criticized all over the press for gaining weight during her pregnancy. But she soon became an inspiration for many by shedding all the baby weight within a few months of giving birth to baby North.
Kim will soon be getting hitched to West in Paris.