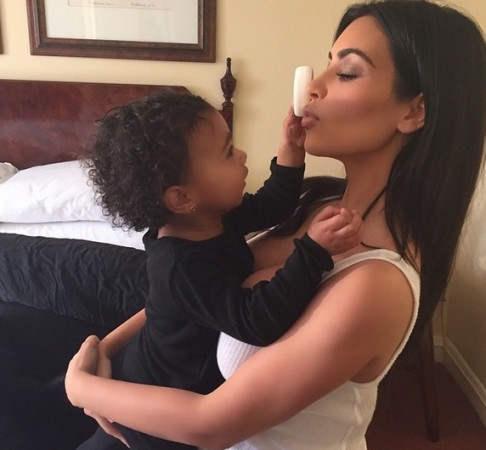 Kim Kardashian is not faking her second pregnancy and her Twitter account has actually not been hacked. In fact, the latest buzz is that the reality star is now pregnant with twins.
The "Keeping Up With The Kardashians" star is angry about rumours revolving around her second pregnancy. On Tuesday, she took to Twitter to blast haters who have been spinning stories that Kim is using a surrogate and planning to wear a prosthetic belly to fake her pregnancy.
Shunning speculations that she's "not" actually carrying her second child, she tweeted: "Can't wait til my website is active! I'm gonna do live video streaming so every time someone talks sh*t I can go blast the f*ck outta them."
Kanye West's wife continued. "Pregnant KiKi does not play!!!! *BLOOP!*"
In response to a fan's tweet, Kim said: "People make up so much even people close who u think are legit. Truth time."
A few reports suggest that, in her tweets, Kim tried to throw shade at TV personality and former radio personality Wendy Williams, who on her show said that she thinks Kim and Kanye "could possibly be using a surrogate from Thailand who's allegedly is living in Kanye's Manhattan Beach home."
"Please! This is the type of stuff I will address. If I got a surrogate I would say I did! Thankfully I didn't have 2," Kim Kardashian-West tweeted back.
When another fan tweeted that she's concerned Kardashian will now spend too much time addressing "lames," Kim replied: "Trust me I won't give lames the time of day! Don't have that much free time now! Still have about 30 businesses 2run."
Following her outburst and these Twitter rants, some people thought her account was hacked, but Kim Kardashian confirmed that she did tweet out her rant while in her hotel room in Nashville, Tennessee.
She wrote: "Hahahaha Twitter just contacted me to see if I've been hacked LOL #JustPregnantKeeks."
Meanwhile, Kim Kardashian, who announced on Tuesday that she was pregnant with husband Kanye West's baby for a second time, is believed to have had two eggs fertilised and is reportedly expecting twins, writes Washington Post.
Apparently, a source close to the Kardashian daughter said, "Kim has told a handful of people that she had in vitro and that two eggs were fertilised. She is waiting to see if they both 'stick' before she makes any kind of announcement."
"She has to wait and see if they are both OK. And she is waiting to get an OK from her doctor that both the fertilised eggs are healthy," the source added.
It looks like Kim Kardashian is playing it low because she doesn't want to steal the limelight from Caitlyn Jenner.