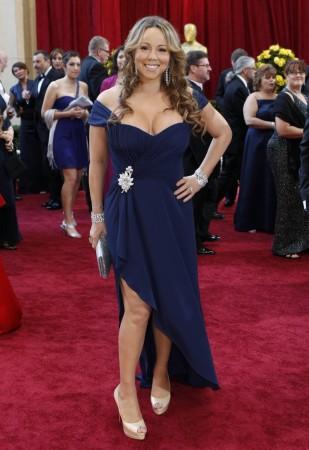 The break up report of singer Mariah Carey and comedian Nick Cannon has taken a new turn with a popular showbiz girl being dragged into their divorce drama. A new report has claimed that Kim Kardashian was the reason for their split.
The 33-year-old host of "America's Got Talent" has confirmed that his marriage with Mariah Carey is on the rocks and that they have been living separately for a few months now. He, however, denied reports that they parted ways because of infidelity.
But according to a report by TMZ, all hell broke loose between the couple after Nick Cannon revealed the names of celebrities he has slept with. A source connected to the couple told the website that their relationship took a downhill after Cannon's appearance on Big Boy's radio show in March, where he named Mariah Carey, Christina Milian, Nicole Scherzinger, Selita Ebanks and Kim Kardashian when asked to name five celebrities he has slept with.
The sources added that the mention of Kim Kardashian drove the 44-year-old singer insane. She was also believed to be angry with her husband for not giving enough time for their kids by taking up every gig available though they don't need the money.
The celebrity couple has been reportedly living separately since May and the only time they meet each other is when Cannon come to see their kids. Sources told TMZ that "divorce lawyers have been negotiating a property settlement and custody agreement for months."
It was earlier reported that Mariah Carey suspected her husband of cheating and things went out of control after she sent out a security guard during his pool parties in Las Vegas earlier this year to keep him away from other girls.
"The security guard wasn't there to keep the girls away from him," said our source. "It was to keep him away from the girls," a source told Page Six, adding that Mariah Carey didn't want her husband to drink during the Vegas gigs as she thinks he gets into trouble after drinking.
However, Cannon has denied infidelity as the cause of their marriage trouble and said that his priority is his kids.
Mariah Carey and Nick Cannon have 3-year-old twins, Monroe and Moroccan together. They tied the knot in 2008, raising eyebrows of many because of their age gap, as the singer, who was earlier married to Tommy Mottola for five years, is older than her husband by 12 years. They also put their Bel Air mansion up for sale in July, fueling more fuel to the reports of their separation.