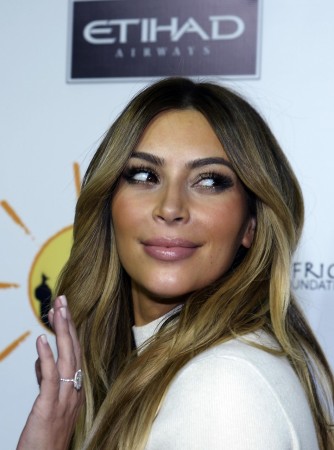 Kim Kardashian is on cloud nine now that she has finally landed on the cover of Vogue. Kardashian and her beau Kanye West graces the April 2014 issue of the fashion Bible and the couple indeed looks stunning.
Kardashian is seen in a wedding dress with West standing behind her in a black suit. The couple was shot by famed photographer Annie Leibovitz and the inside pages of magazine have Kardashian and West in a slew of loved-up poses.
To mark her upcoming nuptials with West, Kardashian has been captured in an array of truly gorgeous wedding gowns.
The magazine's attempt to feature the most fashionable couple of Hollywood has not gone down well with a number of its readers.
"Buffy" star Sarah Michelle Gellar took to Twitter to express her disappointment after looking getting to know that Kardashian and West are on the cover. She has even threatened to cancel her subscription.
On 22 March, Geller wrote: "Well......I guess I'm canceling my Vogue subscription. Who is with me???"
Bridgette Suzette wrote: "Dear @voguemagazine - just called and cancelled my subscription . Some places are sacred, like the cover of vogue. How could you!!"
"The day Vogue died," added Gloria Cases, while Amanda Stallcup question why Anna Wintour wanted to feature Kardashian on the cover after repeatedly bashing her.
"Anna, lets go back to calling Kim "the worst thing since socks & sandals" & keep her out of vogue. Sincerely, everyone with an ounce of class," Stallcup wrote.
Defending her decision to feature Kardashian and West, Vogue editor-in -chief Wintour wrote in her editor's note: "Part of the pleasure of editing Vogue, one that lies in a long tradition of this magazine, is being able to feature those who define the culture at any given moment, who stir things up, whose presence in the world shapes the way it looks and influences the way we see it. I think we can all agree on the fact that that role is currently being played by Kim and Kanye to a T. (Or perhaps that should be to a K?)"