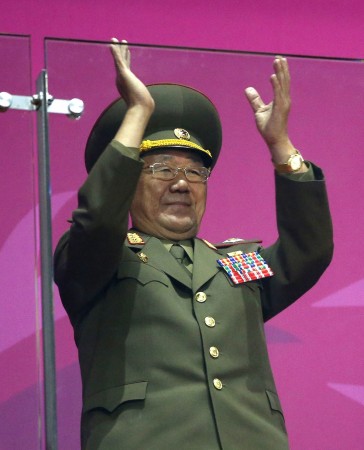 The senior aide to North Korea's supreme leader Kim Jong-un who, along with a delegation, paid a surprise visit at the Asian Games venue in South Korean last week has suddenly become the new face of power in Pyongyang with the reclusive country's dictator out of sight for well over a month now.
Hwang Pyong So, the little-known man until now, has suddenly come under the spotlight after Kim's mysterious disappearance. The man is noted to have risen to the top ranks of North Korea's leadership in just a few years – something that could fuel speculation on whether he is somehow involved in the sudden disappearance of the leader.
Hwang is supposedly the senior-most official from the North to have ever visited the south and some experts are of the view that this could be a possible sign of turmoil within the regime.
Hwang, who is about 65-years old, was a member of a powerful and secretive government body called the 'Organisation and Guidance Department (OGD)', which is responsible for finalising appointments within North Korea's leadership. He rose to be the organisation's second-in-command, Reuters notes citing experts and South Korea's Unification Ministry. At that time the OGD was headed by the current leader's father Kim Jong Il.
When the young Kim took over after his father's death in 2011, Hwang was among the most important advisers to the young leader. While other people were slowly sidelined, Hyang quickly became the General Political Bureau of the army earlier this year. It is reportedly a very powerful position that mobilises the military for the leader.
He also became vice chairman of the National Defence Commission last month, which is also considered one of the most significant positions in North Korea. People familiar with the system of the reclusive nation say it is unusual for anyone to rise to that level so quickly.
Added to the mystery is the fact that the young leader has completely disappeared, leaving people to wonder if this now No.2 man has actually usurped the 'throne' of the hermit kingdom's 'supreme leader'.
Also, despite little military experience, Hwang wears a rank equivalent to four-star general – which is not usual to be given exclusively to someone in the country. He is also thought to be the replacement for purged uncle of Kim, Jang Song Thaek, who was executed earlier this year for 'crimes' such as being a "womaniser," "drinking" and "clapping half-heartedly" for the supreme leader.
Another eye-raiser was the fact that when Hwang visited South last week, he was escorted by the bodyguards that were thought to be loyal to Kim Jong-un, according to South Korean Chosen Ilbo newspaper. The delegation had also arrived at the venue using the jet that was previously reserved only for the supreme leader.