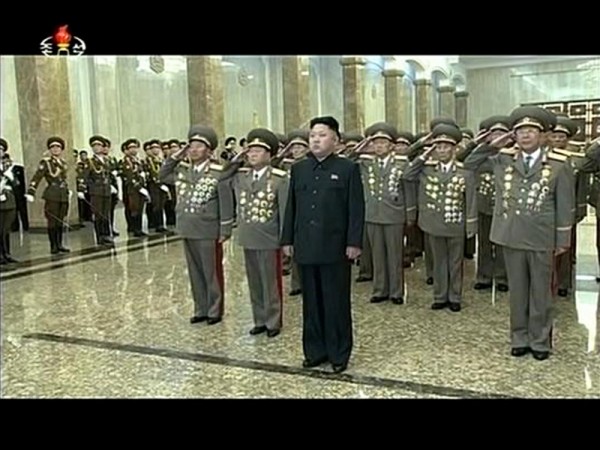 Putting all speculations and rumours to an end, a smiling Kim Jong-un appeared in North Korean state television on Monday, walking with the help of a stick while still appearing to limp, reports suggest.
The North Korean dictator's appearance for the first time in nearly six weeks ended what seemed like an uncomfortable void in the country's politics that fed global speculation that something was amiss in the reclusive nation.
Several pictures on the front page of the Rodong Sinmun newspaper showed the hermit kingdom's dictator smiling and gesturing on a visit to a housing development, although there is no clarity on exactly when the event took place. He was seen surrounded by aides and wearing his signature dark buttoned suit and appeared to support himself using a black walking stick.
The 31-year-old leader of the nuclear-capable country was absent from all public activity ever since he attended a concert with his wife on 3 September. His absence on an important political anniversary on Friday and recent sessions of the country's parliament had further fuelled speculation on a possible political instability in the secretive nation.
The official KCNA news agency also featured a story about Kim's two recent public appearances which was dated Tuesday but the agency did not specify when exactly the events took place. The local media in North Korea would never mention Kim's health or his lengthy absence – as they would signify the leader's weakness.
The KCNA report, which typically chronicles Kim's activities in great detail, said he "gave field guidance" to the new Wisong Scientists Residential District and visited then newly built 'Natural Energy Institute of the State Academy of Sciences'.
"Our scientists are patriots are devoting all their lives to building a rich and powerful nation," Kim was quoted as saying by the agency.
The sudden reappearance of the leader after more than 40 days of absence is perhaps aimed at dispelling further rumours and speculations about a possible coup in the country, experts say.
"He's the military leader, and there was military action a few days ago," Reuters quoted An Chal-il, who served in North's army before defecting to the south in late 70's.
"There was likely concern inside the North's military as well as among the public," which would be eased by Kim's reappearance, he said according to Reuters.