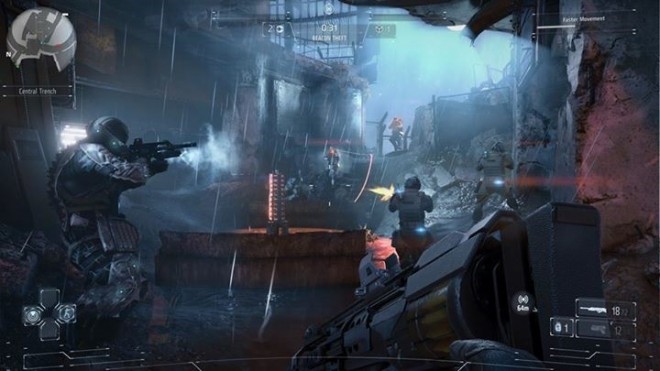 Killzone Shadow Fall, the FPS video game from developer Guerilla Games and publisher Sony Computer Entertainment, gets a new patch 1.26, adding new support and enhancing the game.
The new patch will add support for Killzone Shadow Fall Intercept co-op expansion DLC, which is slated to be released later in the week. It will change the crosshair for some weapons, boosts hit responses from VC30 shotgun and fixes different bugs.
Killzone Shadow Fall is the sixth game in the Killzone series. The game takes place 30 years after the events of Killzone 3 and introduces new characters. The game's protagonist is Lucas Kellan, who is in pursuit of an investigation between rising threats of factions Vekta and Helghast. The game is set in the year 2367.
Kellan will meet another character Echo, who will assist in missions. The game involves weapons previously seen - M82 Assault Rifle, stA-52 Assault Rifle, and stA-18 pistol and also new weapons like LSR44, a hybrid assault and sniper rifle. Players will also use the services of OWL, a drone that will scan and alarm players in times of danger.
Killzone Shadow Fall is powered by Umbra3, an in-house engine. The game was released on 15 November 2013, exclusively for PlayStation 4.
Here are the full patch notes for Killzone Shadow Fall (Killzone):
Added support for Killzone Shadow Fall Intercept
Patch 1.26 adds support for the Killzone Shadow Fall Intercept co-op expansion DLC, which launches this week! Click here to read all about Killzone Shadow Fall Intercept, and click here to check out the E3 trailer.
Changed crosshair for LS36, VC15 and VC30
The LS36 Breacher automatic shotgun, VC15 Judaz shotgun pistol and VC30 Sickle shotgun have received a different crosshair design. The reticule now contracts when lingering on a target to indicate the effectiveness of the shotgun blast. Conversely, when the reticule spreads the blast does less damage and requires more hits to make a kill.
Enhanced hit responses for VC30
The hit response animations for the VC30 Sickle shotgun have been beefed up. The hit responses are visually more impressive now; when you kill someone with the Sickle, the victim flies backward (or sideways) in a much more dramatic fashion.
Re-enabled Brutal Melee while Cloaked
After extensive analysis (and several player requests) we've decided to revert the change that prevented Scouts from performing a Brutal Melee with the Cloak ability active.
Fixed several bugs
Patch 1.26 fixes several minor bugs related to installation and trophy localization.