Shivaraj Kumar's much-hyped "Killing Veerappan" was released on 1 January, 2016. The Kannada film marks the debut of maverick filmmaker Ram Gopal Varma in Sandalwood.
Killing Veerappan Box Office: Shivanna's Film makes fantastic Collection on Opening Day
As the title says, the movie revolves around forest brigand Veerappan. This is the second film in the last two years to be made on the notorious bandit after AMR Ramesh's "Attahaasa". The Ram Gopal Varma film is centred on the events leading to Operation Cocoon to capture Veerappan. In the director's words, it is about an awful criminal versus the lawful criminal.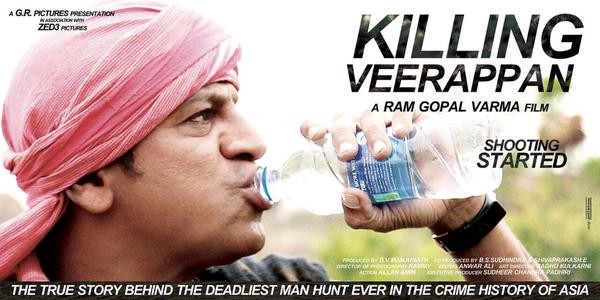 "Killing Veerappan" is not a biopic of the forest brigand. The movie covers the mission carried out by the STF to eliminate him. Shivaraj Kumar plays the role of Senthamarai Kannan, the Superintendent of police, who masterminded the Operation Cocoon. Sandeep Bharadwaj will be seen in the role of Veerappan with Yagna Shetty playing his wife's character of Muthulakshmi.The movie has Rammy's cinematography, Anwar Ali's editing and Ravi Shankar, Sandy and Satya Kasyap's music.
Average Ratings Given by Audience: 3
Reviews:
Audience on social media sites have praised the performance of Shivaraj Kumar to heavens. The Century Star is brilliant in his role and Sandeep Bharadwaj too steals the show with his remarkable acting. The film has garnered fairly positive reviews and it is a technically brilliant film. Below, we bring you the audience's response to the Kannada flick:
Sriram Karanam wrote
@RGVzoomin is back. Excellent way of narrating a story. #KillingVeerappan . Every single shot is brilliant #Bangalore #Kannada
Cinema_tharanga posted
#KillingVeerappan welcome back @RGVzoomin. #KillingVeerappan super thrilling
@TheParulYadav in deglamourous role acted superbly mam. ...hope that you do these kind of movies more. There's also a cute love story between @TheParulYadav and #YajnaShetty. :p ...Lol. .. Just kidding ..ha ha. #Shivanna in different get ups as a tough cop ....Treat to watch
S Shyam Prasad wrote
#KillingVeerappan U/A . Censor certificate lacked clarity to check other details.
Killing Veerappan technically superior than Attahasa. But don't expect anything extraordinary.
Cineloka.co.in posted
#KillingVeerappan - Interval. Good first half. Dr.Shivanna performance is awesome..
@RGVzoomin is back. #KillingVeerappan is superb. Watt a start for the year.. Killer performance by #DrShivanna. Rating - 4 stars
Sohail Khan tweeted
Hats off to the team of #KillingVeerappan @RGVzoomin ..mind blowing acting by @TheParulYadav @EShivaprakash @SanchariVijay 3**/5 Superb
MoviePremigalu wrote
#KillingVeerappan 1st half verdict: Trademark #Kickass BGM of @RGVzoomin flicks continues,#DrShivanna & Veerappan steal th shw! Rating:3.5/5
Priyanka- Photos 4 U wrote
#ShivarajKumar's role is powerful in #KillingVeerappan. He is simply outstanding in his role. This once again shows the versatality of Shivanna. hats of. One should watch #KillingVeerappan to see the other side of @TheParulYadav. Way to go girl....
Thr is hardly any error in technical aspect. Overall content is gd but not great! Watch it to know why I mentioned it #KillingVeerappan
Somashekar Channappa posted
#KillingVeerappan. Neat movie, straight narration without frills and fancies. No scenes are dramatized, no larger than life characters.
Shashiprasad S M wrote
#KillingVeerappan #interval So far cluster of events through the eyes of the STF spy portrayed by Shivanna.
Harish_uv posted
#KillingVeerappan - Good first half. Dr.Shivanna performance is awesome..... Bagundi antarooo ma guru gari movie #RGV
Goodman wrote
#KillingVeerappan - Subtle and decent watch.. For brilliant and sharp shot compositions. Shivanna excels.3/5
Avinav Beloor posted
Treat to watch Shivanna in typical roles. Amazing performance & energy. His last movie with realistic notch was Kaddipudi.
#KillingVeerappanFinally a good movie by @RGVzoomin. Super comeback. #KillingVeerappan Loved #KillingVeerappan. Shivanna overtook Sandeep as badass cop. Sandeep was nowhere close to @actorkishore in #Attahasa except manner.