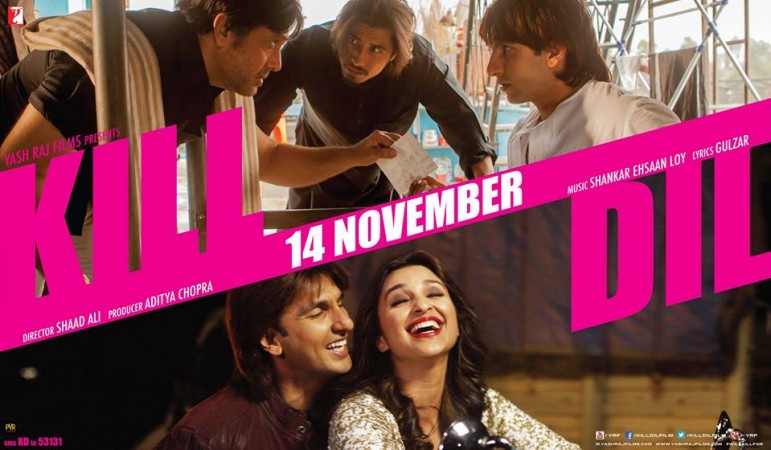 IBTimes India Rating: 2
Wafer-thin narrative, fractured script and cringe-worthy dialogues screech Shaad Ali's "Kill Dil" to a halt much ahead of the finish line.
He narrates the story of Bhaiyyaji (Govinda) and his two trigger-happy henchmen Dev (Ranveer Singh) and Tutu (Ali Zafar). Ready-to-kill and always on the run, the two gentlemen are major loyalists of their godfather Bhaiyyaji and would never betray him.
This is where Disha (Parineeti Chopra) steps in, a wealthy social worker who rehabilitates ex-convicts. And Dev, like a typical Hindi film hero, dances, jumps, sings and falls irrevocably in love with her. Predictably, the lovesick boy now wishes to free himself from the crime-laced life.
Will love nurse his wounds and peel him away from the bullets or will he go back to being with his benefactor? In a nutshell, this is what the film holds for you.
Govinda as the dancing, dialogue-spewing hood is convincing but his talent could've been put to a better use. Singh owns the film with his honest and effortless portrayal of Dev, but Zafar comes across as too sweet to be the tough guy. Chopra is stuck in a rut and needs to break the shell she has been snuggling in.
Ali's direction shows signs of ineptness and this crime-drama is possibly a blot on his impressive resume. He gives an engaging first-half but the surfeit of songs has an important role to play in the film's undoing. Composed by Shankar-Ehsaan-Loy, the music album is appreciable but demands massive screen time. Gulzar's words, like always, touch the soul.
The crass dialogues are too 90s to be believable, although, Bhaiyyaji's witty one-liners did leave the audience in splits. For instance, "Mungphali mein chilke aur laundiye mein nakhre agar naa hote toh zindagi kitni asaan hoti".
However, Aveek Mukhopadhyay's camerawork was a plus as it aided in making the 145-minute long stay at the theatre visually interesting.
In a nutshell, the film didn't quite kill it but has in store handful of honest performances.