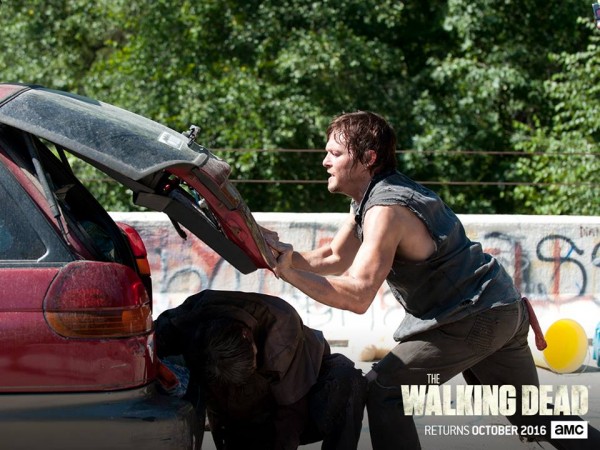 Mother Hubbard Photography of Woodbridge, New Jersey, has been at the receiving end of a lot of flak after it used a group of kids to re-create violent scenes from AMC's "The Walking Dead." Some of the pictures are still up on its Facebook page, but some have been removed following complaints.
CLICK HERE to check out the photos.
Talking about the negative response the photographs have received, Alana Hubbard, the project's photographer, told The Cut she doesn't understand what the big deal was as "the kids were all having fun." The blood and gore that were in the picture were inserted using Photoshop, but some of the comments show that people are upset by these photographs.
"You're just a terrible photographer and you have no common sense," one fan wrote on Facebook, criticising the theme of the photoshoot. "You are having these very young children act out very adult situations. Use your brain."
One photo has several toddlers dressed up as the survivors while a pint-sized Negan swings a baseball bat. This scene is from the Season 6 finale of "The Walking Dead," and it said to be one of the most violent scenes from the series.
Another snap recreates moments from Season 4 that show Carol getting ready to shoot Lizzie. "No children were harmed in the making of this, they were just playing pretend and acting and that is a toy gun," the photographer wrote. "Also Carol is MY daughter and Lizzy is a friend's daughter, who both knew they were playing a role and acting with TOYS and know all about gun safety. The children on the actual Walking Dead show held weapons at each other and no one freaked out...remember it's PRETEND."
"The Walking Dead" is the story of a group of survivors who try to find a safe haven during the zombie apocalypse. The series, which is currently filming its seventh season, will return to AMC in October.