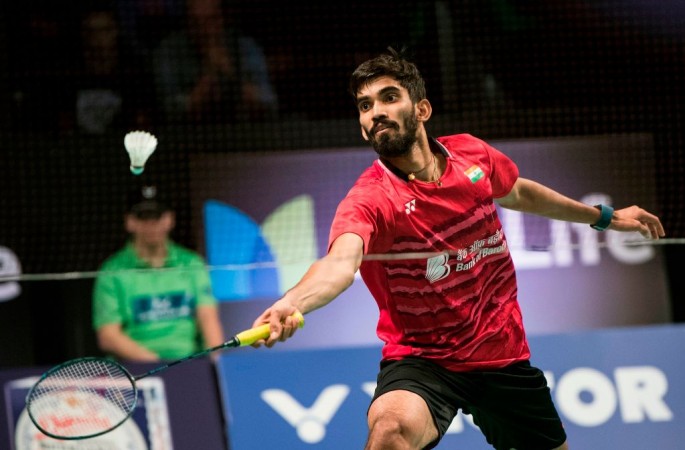 "Badminton masterclass" said TV commentator Gillian Clark as Kidambi Srikanth was dictating play during his 21-14, 21-13 win over qualifier Kenta Nishimoto in the Men's singles final of French Superseries on Sunday, October 29.
With the dominant win, Srikanth became the first Indian to win a title at the French Open after it became a Superseries tournament in 2007. He also joined an elite few of Malaysia legend Lee Chong Wei and Chinese greats Lin Dan and Chen Long to bag four or more Superseries titles in a year.
Notably, it was the 24-year-old's second straight after his Denmark Open win last week. He had won the Indonesia Superseries Premier and Australian Open in successive weeks earlier this year.
Ruthless Srikanth toys with Nishimoto
Srikanth's dominance in the final was such that the crowd, which had been rooting for the Indian shuttler, cheered Nishimoto, the unseeded 23-year-old shuttler, to help him stop the one-way traffic at the Stade Pierre de Coubertin.
The world number four though continued with his ruthless approach, giving Nishimoto no chance to make a comeback after taking the first game in just 16 minutes. Notably, Srikanth was trailing 5-9 in the opening game, only to swing the momentum in his favour with nine straight points.
Nishimoto was hapless as Srikanth continued his dominant form in the second game as well. Notably, the in-form Indian shuttler decimated veteran South Korean Lee Hyun il in just 35 minutes in the Denmark Superseries final last week.
Fit and furious
Srikanth did not show any signs of fatigue even after spending more than two hours over the last two rounds in Paris.
The world number four needed an hour and one minute to edge past Shi Yuqi in the quarter-final, while he took an hour and two minutes on Saturday to come back from behind and beat his compatriot HS Prannoy in the semi-final on Saturday.