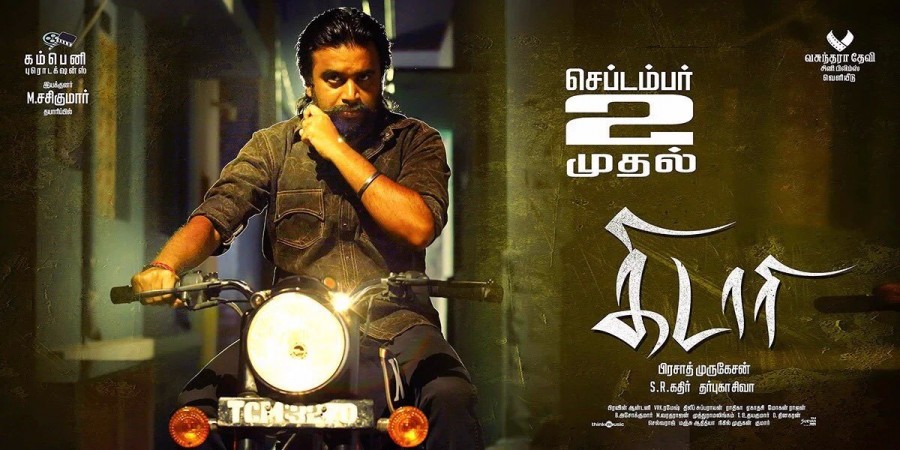 Sasikumar's much-awaited "Kidaari" has garnered good reviews from the audience. The Tamil movie has been written and directed by newbie Prasath Murugesan, who was a former associate to filmmaker Vasantha Balan.
Nikhila Vimal, who had paired up with Sasikumar in his previous movie "Vetrivel", plays the female lead in "Kidaari" and veteran actor Napoleon is making a comeback with this flick. Suja Suja Varunee, OAK Sundar, Vela Ramamurthy, Vasumithra along with three Tamil writers, Vela Ramamurthy, Mu Ramasamy and Vasumithra, are part of the cast. Darbuka Siva is the music director, SR Kathir is the cinematographer and Praveen Anthony is the editor of the movie.
The movie has garnered a lot of positive buzz with its three songs "Vandiyila Nellu Varum," "Vettaruva Veecharuva" and "Thalakalu Puriyala" turning out to be hits. The trailer of the Tamil film has successfully raised the curiosity levels of the audience about the flick. Hence, cine-goers have high expectations from "Kidaari."
Sasikumar plays the title role and looks after his family business, while Nikhila Vimal will be seen as a college graduate in the film set in small towns of Sathur and Kovilapatti. It is a rural drama, which is said to be an out-and-out action flick.
Reviews:
"Kidaari" has opened to positive reviews from the audience. The engaging screenplay backed by good performance of the important characters have impressed the viewers. The action part has been appreciated by many although the film has lots of violence. Here, we bring you the audience response to the flick:
Sreedhar Pillai: #Kidaari 3/5. Drawback – Laid back narration with too many character sketches in the 1st half, which hampers the speed.
#Kidaari 3/5. Awesome music & bgm by debutante #DarbukaSiva,#Kathir's camera is like another character in the Tarantino style film.
#Kidaari 3/5. @SasikumarDir & #Nikhila romance is crackling and only joyful moment in the film. Solid performance #VelaRamamurthy & others.
#Kidaari 3/5 @SasikumarDir is terrific in his comfort zone & his eyes convey the anguish & agony. 4 a change he does not preach "friendship"
#Kidaari 3/5. Engaging & different rural revenge and redemption film with a non linear screenplay from debutante #PrasathMurugesan.
Ramesh Bala: #Kidaari [3.25/5]: Dir #PrasadMurugaesan has done lot of homework.. Interesting and different screenplay.. Powerful chars.. Worth a watch..
#Kidaari [3.25/5]: @DarbukaSiva 's songs and BGM are excellent assets to the movie.. DOP @srkathiir captures #Satthur landscape well..
#Kidaari [3.25/5]: An impressive lineup of supporting cast.. Vela.Ramamuthy, #Napolean , #JokerRamaswamy and @SUJAVARUNEE stand out..
#Kidaari [3.25/5]: @Nikhilavimal1 looks good and emotes well.. Does a convincing job as a small town gal..
#Kidaari [3.25/5]: Actor @SasikumarDir shows aggression where needed.. He has good scope for comedy, romance and sentiment.. Does well..
#Kidaari [3.25/5]: A story of loyal servant who protects his Master from cunning enemies.. Set in authentic Sattur rural mileu.. Good..
Surendhar MK: #Kidaari sparkles in its presentation & the brilliantly written screenplay. It has one of the well-staged opening sequences in recent times.
The screenplay is peppered with violence, bloodshed & double-edged caste references. Prasath Murugesan nails the episodic narrative approach
With a central plot as controversial as Thevar-Nadar conflict, #Kidaari gets away w/o any direct reference courtesy Prasath's smart writing.
Anand Suriya: Very good music by darbuka Siva...#kidaari @Nikhilavimal1 @DarbukaSiva @SasikumarDir.
Half way through #Kidaari , Nama Padamtheen , Nama Oor vera #Nellai keka va ve venum!!! ;)
#KombaiyaPandian and #Kidari on the floor :)
Prashanth: #Kidaari interval - the @SasikumarDir we all love is back !! Not bored even for 2 minutes . Keeps you very engaging !!
Sidhu: #Kidaari Interval: Okayish. Usual rural story, with some really good mass scenes. The making and the music are making this watchable.
#Kidaari: Might be slow at places, but the way it comes together at the end is laudable. Great casting, lifelike characters.
#Kidaari: Raw and rustic. Liked this the most among Sasikumar's films in recent times, an engaging story worth watching.
Hari: #Kidaari loved the portions when @SasikumarDir is all menacing and intimidating the baddies, surely no one has that powerful look .
#Kidaari halfway thru the movie, stereotypical rural flick, clan clashes, village politics... complete intimidation with sasikumar
Satishkumar: #Kidaari Glorifying devar community in kollywood seems support from politicians too? caste fanatic like sasikumar shame for kollyywood
Only Kollywood: Half way thro #Kidaari. Despite a usual storyline, the film shines in its presentation & screenplay. Darbuka Siva holds the film immensely.
Sugan Krish: #Kidaari Despite a usual storyline, the film shines in its presentation & screenplay. #Darbuka awsm bgm @Nikhilavimal1 u looking Superb..
Kaushik (LMK): #Kidaari 1st half - Interesting screenplay pattern. All possible suspects of a crime shown through episodes. Rural violence drama. Gripping.
Rajasekar: #Kidaari is a watchable gangster flick set in rural milieu.Liked d non-linear screenplay& authentic execution 4m newcomer Prasath Murugesan