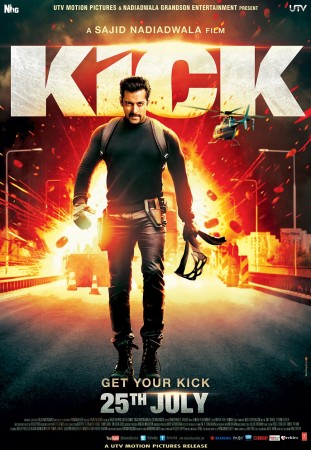 IBTimes India Rating: 1.5
How does one evaluate a script so laughably ridiculous and perfectly loopholed? Off a Polish building into double decker bus which reads King's Cross (London is just a jump away after all). Super villain Shivraj (Nawazuddin Siddiqui) can hold his breath for 15 minutes (what?). Supercop Himanshu Tyagi (Randeep Hooda) never forgets 'a case and a face' but does his research halfway into a case (wow!).
Shaina Mehra (Jacqueline Fernandez), a psychiatrist who is hopelessly in love with her ex-flame Devi Lal Singh (Salman Khan), meets Tyagi. She shares her eccentric love story. And he tells her is on the lookout for an intelligent thief, Devil, who has made him doubt his own capabilities. Oh, and the two are due to get married. They have been family friends. So original, so different.
Most of the first half is spent chasing the hero on his many shenanigans. He punches, jumps, runs, loves and sings; on repeat. Shaina is fooled into believing he is suffering from Retrograde Amnesia and is in Warsaw to get himself treated. Why? Because he's the Devil and on a mission to save children (who are dying of the nation's corrupt healthcare system). And that's how the makers promise to entertain the audience in the coming weeks; like it or not. The second segment has its share of twists but even that does not give the 'kick' you'd expect.
The much-talked about action sequences and chases are nothing but a montage of speeding and exploding cars. Why, where, how and why? At this point, answering such questions seem like finding reasons of our existence.
Dialogues, bordering on the absurd, tries to create some unnecessary melodrama and fails. (like "main dil mein aata hoon, samajh mein nahi"). The music, by Himesh Reshammiya, is barely there with its occasionally peppy "Jumme Ki Raat" and "Hangover". Salman Khan plays Salman Khan, entertains with his seen-before antiques. Fernandez saw the film as a ramp and walked till the end, wearing the most stylish clothes. Siddiqui as the super villain is a wonderful talent wasted; he is not cynical and does not give the much-needed 'kick'. Hooda holds attention for a fair amount of time but loses it midway.
A remake of the Telugu film (of the same name), Sajid Nadiadwala's maiden directorial venture does not generate the adrenaline it promised. Although it is entertaining in bits and pulls off a few genuine laughs, the director could have made much more out of it, had he not focused only on the superstar.
A note to Salman, "apni kick ke liye tum kiski bhi jaan khatre mei daal sakte ho".