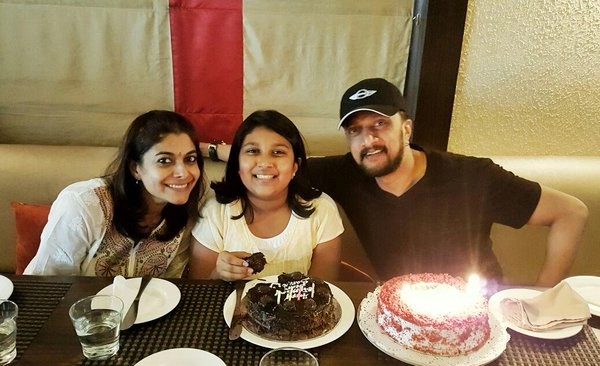 Kiccha Sudeep and his wife Priya Radhakrishnan seem to have patched up, and their relationship is returning to normalcy. The couple had approached a family court, seeking divorce last December.
But now, according to a report on Suvarna News, they were asked them to appear before the court on Wednesday, June 29 but they failed to appear before the judge. This is second time in succession that the couple has skipped the hearing, thereby paving way for the rumours of their reunion.
People have more reasons to believe that Sudeep and Priya have reconciled. Apparently, the couple's recent actions have given strong clues about their relationship getting back on track. Sudeep had praised his wife Priya on the popular TV show, "Weekend with Ramesh 2" in April. He had said in the show that his wife was his strength all these years and without her he could not have been successful in life.
His lavish words of praise for his wife, despite the pending divorce application, came as a pleasant surprise. The icing on the cake was that the couple shared the stage at the audio launch function of the recently-released "Jigarthanda." They were also together at their daughter Saanvi's birthday last month.
Last but not the least, Sudeep welcomed Priya on Twitter. All these make his fans believe that the couple's relationship is getting back on track.
However, Sudeep and Priya have maintained a dignified silence ever since they applied for divorce. In fact, it was Kiccha, who announced his split with his wife due to irreconcilable differences. He had also requested media to give them privacy.
Kiccha Sudeep and Kerala-based Priya got married in 2001 after being in love for a few years. [Watch the Video of The couple at 'Jigarthanda' Audio Launch]