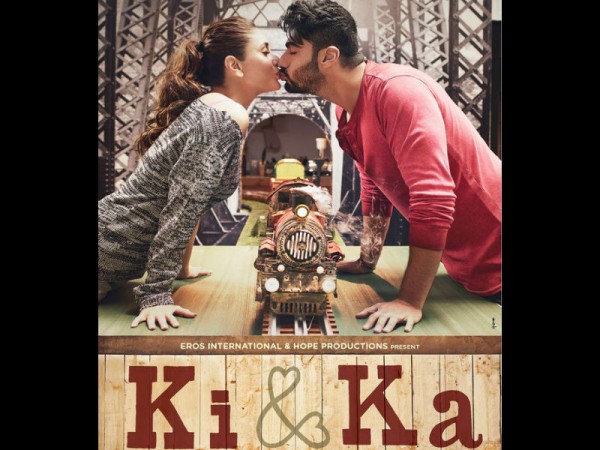 Upcoming movie "Ki and Ka" has a number of kissing scenes between Arjun Kapoor and Kareena Kapoor Khan but the censor board has made no visual cuts. Directed by R Balki, "Ki and Ka" has received a UA certificate and none of the kissing scenes has been cut.
Arjun and Kareena will be seen as husband and wife in the film, and the censor board chief has opined that the lip-lock scenes have been presented very aesthetically and it is normal to show such intimacy between a married couple on screen.
"Arjun and Kareena play a married couple, a husband and wife. It's normal to show some intimacy in a marriage. R Balki has handled these scenes beautifully. The kissing scenes have been shot naturally, without the least amount of fuss. It would have been unjust to cut any of these aesthetically done moments of intimacy," SKJ Bollywood News quoted CBFC chief Pahlaj Nihalani as saying.
The report also said that the film did not suffer even a single visual cut but only two verbal cuts as two words "b*****d" and "a*****e" were chopped off. Although this is the first time that Arjun and Kareena have worked together, their chemistry has impressed fans. Both the stars have apparently enjoyed working with each other and Kareena even candidly said that Arjun is a good kisser at the trailer launch event.
"Ki and Ka" will present the "Gunday" actor as a house-husband while Kareena will play the role of an ambitious working wife. The film apparently challenges the age-old gender roles, followed by an Indian society. Amitabh Bachchan and Jaya Bachchan also have special appearances in the film. It will hit the screens on April 1.