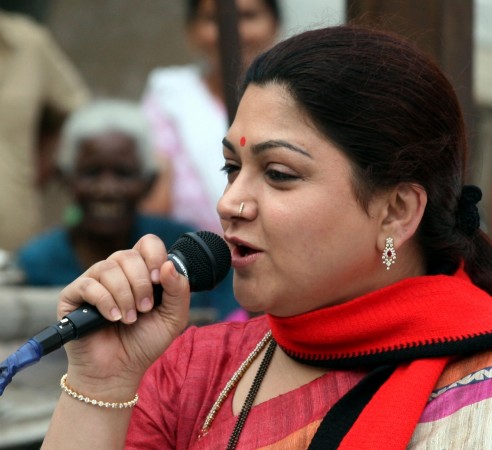 Actress and politician Khushboo Sundar has spoken out strongly against VHP's demand to ban "Uttama Villain" , by extendeding support to Kamal Haasan.
The actress said that it has become common for these fringe groups to demand ban on movies few days before the release. She hoped that Kamal Haasan would come out of this (unfazed) like he has always managed to do. She also asked the film industry to unite against such frivolous demands to ban movies.
Y do fringe groups alwz attack cinema?Dey don't hve better jobs or its out of sheer desperation? #Kamalhassan will cme out unscathed yet agn

— khushbusundar (@khushsundar) April 9, 2015
Really hope film industry stands united..its bcme a fashion nw 4 every tom, dick n harry 2 protest b4 every release..guys try n make a film. — khushbusundar (@khushsundar) April 9, 2015
On Monday (6 April), members of the Vishwa Hindu Parishad (VHP) called for a ban on the movie, claiming it will hurt religious sentiments of a certain section of the Hindu society.
In a statement given to the Chennai police commissioner, the members of the organisation alleged that they have issues with the song "Iraniyan Nadagam", saying it belittles the conversation between mythological characters Prahalad and Hiranyakashipu and will hurt religious sentiments.
"The lyrics of the song will upset followers of Lord Vishnu. It belittles the conversation between Prahalad and Hiranyakashipu. Hence, we demand a ban on the film," said K.L Sathiyamoorthy, member of VHP.
This is not the first time Kamal is encountering trouble from religious organisations. He had previously faced problems during release of movies such as "Vishwaroopam" and "Virumaandi".