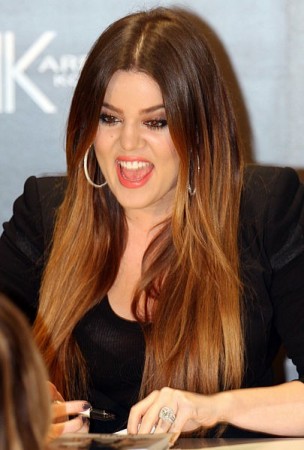 A picture of Khloe Kardashian has surfaced online, which shows her holding a bottle of Grey Goose Vodka to her mouth. The reality star's sister Kim shared the picture on her Instagram account on April 24. "Drink it up Khlo," read the caption. Kim too is seen in the image.
Interestingly, the picture has come just a few days after it was rumored that Khloe could be expecting alleged boyfriend French Montana's baby.
A report in May 5 issue of Life& Style had carried that Khloe is glowing after the baby news.
"She hasn't felt this happy in a long time. Friends keep telling her she deserves this, finally," Hollywoodnews quoted source from the magazine.
The source further revealed that she is following the footsteps of her sisters Kourtney and Kim and believes that she doesn't inevitably have to be married to have a baby.
"She doesn't necessarily believe in being married to have a baby. Look at [her sisters] Kourtney and Kim!" the source explained.
So is this photo Khloe's way to play down pregnancy rumors? Khloe is clearly sending a message that she is drinking and merry, something which is not advised during pregnancy or when one is trying to conceive.
However fans think that this is an old picture. According to analysis by HollywoodLife experts this is Kim's pre-nose job photo, which means it could have been taken sometime in 2006.
Khloe has always wanted kids and she has openly confessed about her wish to have them. She has unabashedly discussed her fertility treatments and her quest to be pregnant on the reality show "Keeping Up With the Kardashians".
"I love kids. I hope and pray I have kids when the time is right," the 29-year-old said in the April 2014 issue of Cosmopolitan magazine.
[ED:VS]