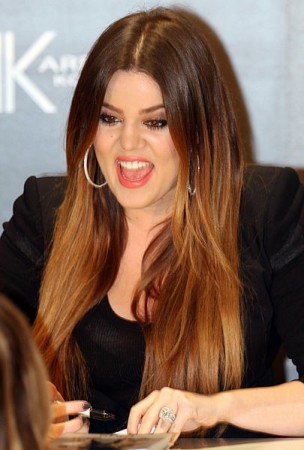 Khloe Kardashian has neither denied nor confirmed romance with French Montana. The two have been spotted going on various dates and recently hinted about their romance with ballroom dance video.
In the video the two could be seen in intimate dancing positions as Kardashian kisses Montana's cheek before twirling around. While dancing the two began to smile and lock lips as the shot fades to Kardashian flipping her hair back and looking into the camera.
Kardashian's makeup artist, Rob Schepp, shared the video on Instagram and it was filmed backstage at the 2014 MTV Africa Music Awards (MAMAs) in South Africa on Saturday, 7 June.
Montana was one of the performers at MAMAs and he was in Durban before Kardashian joined him. For the award function Kardashian was seen in a figure-hugging, long-sleeve, draped, silk, champagne pink-colored Lanvin wrap gown.
"A little Lanvin never hurt anyone," she captioned the Instagram picture from the event.
Before attending the award function in South Africa, the two were together at Jennifer Lopez's first concert in the Bronx.
Furthermore, Kardashian and Montana were also spotted in a PDA during a dinner date in Malibu. The alleged couple was seen dining with momager Kris Jenner.
"Khloe and French were like a full on couple in front of Khloe's mom Kris. They all sat in the back patio area, which overlooks the ocean. Khloe was introducing French to her mom and they hugged and kissed on the cheek," our source revealed to HollywoodLife. "Khloe and French sat next to each other and were pretty touchy feely, like he had his arm around her and he kissed her on the forehead."
It is also understood that Jenner really likes Montana for her daughter Kardashian.
"They were all laughing and smiling and taking pictures after dinner. They all seemed to really have fun and Kris seemed to genuinely like French," the source further explained.
Before being linked to Montana, Kardashian was in a four-year marriage with NBA player Lamar Odom. The couple called it quits after the latter allegedly took to drugs and got involved in an extra-marital affair. Fans wonder that does Kardahshian's growing closesness to Montana upset Odom?
Rumors had also suggested that Kardashian is planning to move in with Montana.
"It's been discussed but it's not something that either of them are seriously considering now," Website quoted a source. "She's been there, done that and quite frankly there's no need to do all that. They spend nights together when they're traveling. And they're around each other all the time. There's no rush to move in with one another right now."