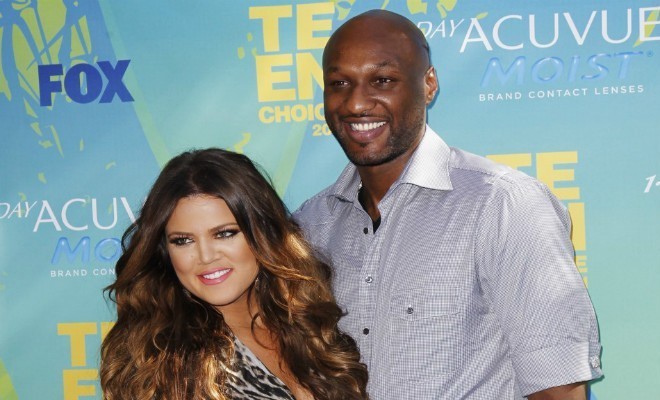 Now that Khloe Kardashian has finally called it quits with French Montana, after he allegedly sent inappropriate text messages to her best friend, Malika Haqq, the reality show star is supposedly thinking of reuniting with her estranged husband Lamar Odom.
Reportedly, Kardashian has been in constant contact with Odom, and now that her relationship with Montana is over, her feelings for Odom is coming back, according to a report.
"She's in constant communication with Lamar and they are talking about the possibility of getting back together, among other things," an insider revealed to HollywoodLife. "Most importantly for Khloe, she wants to know how Lamar's doing physically and mentally and that's the biggest reason why she talks to him and has been even after she filed for divorce."
"I think she will give him another chance but the decision is ultimately hers and she could possibly leave things as they are and continue with an official divorce. No matter what, she'll always love Lamar," the source added.
The source said that letting go of Odom wasn't an easy choice, considering they had planned a future together. "It wasn't easy letting go of him and now that he's healthy and looking good and gaming her up, Khloe's getting weak and all those feelings are coming back to life."
Meanwhile, her recently dumped boyfriend, Montana, appears to be bitter, post the break-up, if his recent Instagram update is any indication. "Happy hoes ain't hating, and hating hoes ain't happy," he captioned a photograph of him smoking with his buddies, and many believe it is in reference to Kardashian.
Kardashian and Montana were inseparable since April, and she stood by him even when rumours of his cheating ways first surfaced. But their relationship finally ended when Montana reportedly crossed the line with Haqq, who has been friends with Kardashian since childhood.
"Khloe broke into (French's) phone and saw him sending all kinds of inappropriate texts to her girl. She blacked out on dude, and that's why they broke up," a source recently told gossip website Media Take Out, adding that the break-up wasn't hard on Kardashian, as she wasn't into Montana.