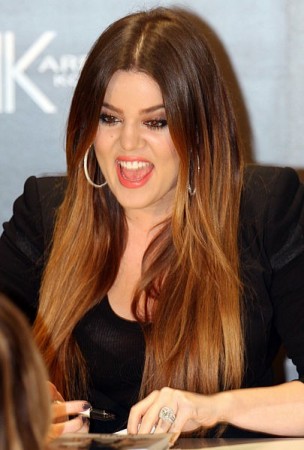 Khloe Kardashian might get engaged to her new beau French Montana, even before her divorce with estranged husband Lamar Odom gets finalized, if recent reports are to be believed.
Montana reportedly has been shopping for engagement rings and if he has his way, he would like to get hitched before the end of the year.
'[French] has started to look at rings. French knows she's the one for him. They've discussed their future and she's said she would marry him," a source told Life & Style magazine, according to Contactmusic.
''If he got his way, French would propose soon, and they would marry by the end of the year. So Khloé is going to try to push her divorce through as soon as possible.''
Khloe and Montana's relationship appears to be going strong, even though the rapper has been accused of cheating on the reality show star.
Mariela Sanchez, an intern at KISS 108, recently came out with accusation that the rapper tried to hook up with her after meeting at a club. But the cheating allegations have not affected their relationship, as Khloe was spotted out and about with Montana soon after.
Pregnancy rumors too have been doing the rounds in recent times, and according to a new report, Khloe might be in the early stages of pregnancy.
Khloe and her sister Kourtney are currently filming "Kourtney & Khloe Take the Hamptons" in Amagansett, N.Y., and the sisters reportedly had a visit from an OB/GYN, according to Life& Style magazine.
"The [ob/gyn] doctor first visited Kourtney then Khloe," a source told the magazine, with another adding: "She is craving junk food and gaining weight. Everybody thinks it's only a matter of time until she finally announces she's pregnant," HollywoodLife reported.
Ever since Montana and Khloe started dating early this year, multiple reports have noted that the two have been having unprotected sex, and that it was only a matter of time before the "Keeping Up With The Kardashians" star got pregnant.
Khloe has also been vocal about her desire to become a mother, thereby aiding pregnancy news.
If the pregnancy rumors turn out to be true, then her family is sure to be happy for the youngest Kardashian sister. But her sister Kim and stepfather Bruce Jenner are reportedly yet to be convinced that Montana is the ideal man for Khloe.
"[They] are very sceptical of him. They think he's using Khloé for fame,'' a source told Life&Style.