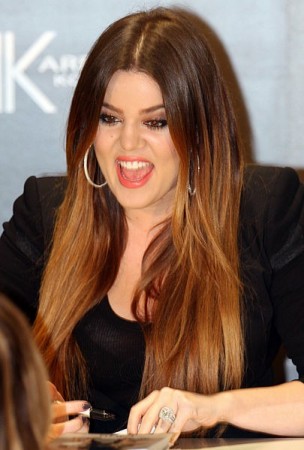 Khloe Kardashian's beau, French Montana, surprised his girlfriend with a jeep and a lot of bling on her birthday on Friday, and the gifts included a diamond ring that caused many to wonder if the couple is engaged.
However, the ring in question turned out to be an 18k gold, natural green Colombian emerald flexible ring featuring yellow canary diamonds.
"He mentioned how much Khloé loves flexible finger rings and was drawn to the Rafaello Couture collection," Rafaello & Company's CEO Gabriel Jacobs told E!News.
"Khloé was ecstatic!! She gave French Montana a hug and a kiss and she gave me a big hug and said, 'Thank you so much!'"
A number of her fans were expecting Khloe to get engaged on her birthday as her sister Kim got an engagement ring as part of her surprise birthday present. However, Khloe is taking things slowly as is not yet ready to make such a big commitment, according to a HollywoodLife source.
"Khloe's not up for moving in and permanently sharing her bed and heart with French forever yet. It's too early for those type of big decisions. And an engagement is not even on the table. They're enjoying each other's company and having fun with their relationship," the source said.
Praising Montana, the source said that the rapper has clearly managed to make Khloe valued and cherished, which is especially important now that she is attempting to get out of her disastrous marriage to Lamar Odom.
Khloe filed for divorce from Odom in December.
"French is one smooth man who treats Khloe spectacularly and romances the dear life out of her. Seriously, what woman wouldn't like that? With him, things are easy and simple and that's how a girl likes it," the source said.
"She and French are serious in so far as they have a serious connection. They have a serious relationship that they both are fully in and they're seriously having the most fun ever."
Montana was recently accused of trying of hook up with an aspiring journalist, Mariela Sanchez, after a June 20 club performance in Lawrence, Massachusetts.
The rapper reportedly climbed on top of the college student, who was attempting to land an interview with the rapper, after taking her to his tour bus, and he started licking her ears.
However, during an interview with KISS 108, Sanchez said that she managed to push him off her and leave the bus before anything more could happen.