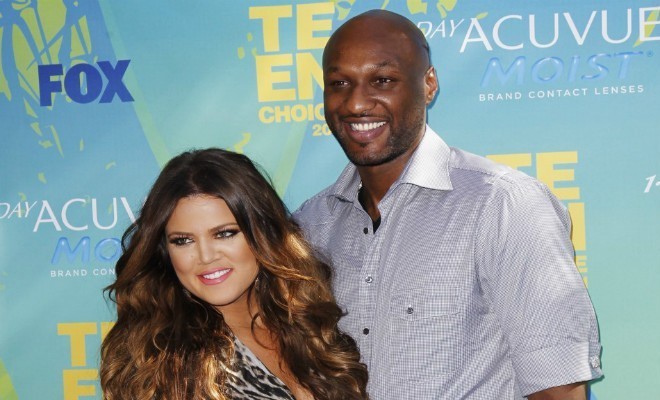 Another reality TV couple's marriage has fallen apart. Khloe Kardashian, one of the famous sisters from the "Keeping up with the Kardashians" clan, has officially filed for divorce from her athlete husband, Lamar Odom citing 'irreconcilable differences', according to several news reports.
Khloe had decided to end their four-year marriage long before, but was apprehensive about 'pulling the trigger' because she was scared that Odom would commit suicide or overdose on drugs, reports TMZ. Apparently, the star was waiting for the right time and has now filed for divorce.
Laura Wasser is representing Khloe in the legal procedure. The divorce is going to be a smooth affair unlike many others, because the couple have a prenup that keeps both their assets separate. Khloe has requested the judge to restore her maiden name and is not asking for spousal support, reports Hollywood Life.
Check out the divorce documents, here.
Khloe and Odom have been estranged over the past few months due to the latter's drug habits and infidelity. Odom has reportedly been on and off crack and has also cheated on Khloe with several women.
The couple had tried to fix their marriage. While Lamar even tried to beg for forgiveness on the Kardashians' reality show, Khloe had also tried reaching out to her husband via the social media. However, it was just too much to handle.
"He (Odom) knows that no other woman on the face of the earth would go through a battle like that, the way she did. He always pleads his case to her every chance he gets, but his actions just don't match up to his words," a source told Wetpaint.com.
"She flip-flopped several times, but she can't imagine having kids with someone who refuses to seek help for his disease," another insider told Us Weekly.
E! Online has a timeline of Khloe and Lamar's marriage, from the rosy to the rocky. Check it out, here.
Now that Khloe is legally separating from Lamar, she has already found someone to move on with. According to Mstarz, the Kardashian designer is reportedly dating LA Dodgers Outfielder, Matt Kemp, who also happens to be Rihanna's ex.