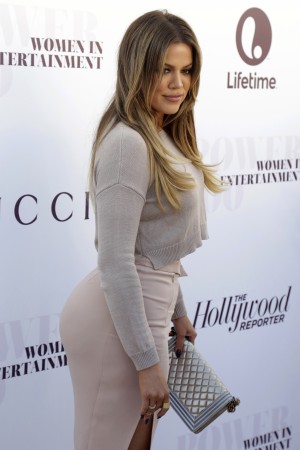 Khloe Kardashian is believed to have moved on from her split from rapper French Montana, as recent rumours have been linking the youngest Kardashian sister with basketball player Robin Lopez.
New York Daily News reported on Saturday that Kardashian was on the hunt for a new man, and she has her eyes set on Portland Trailblazers centre Lopez. The media outlet even warned Lopez to stay away from Kardashian by pointing out that the last time a "Kardashian drafted an NBA player as a boyfriend, she divorced him after 72 days."
However, there appears to be no truth to this news, as Lopez responded with a tongue-in-cheek statement, noting: "You know, I'm not exactly certain of the veracity of those rumors. But what I can comment on, I suppose, is the fabrication of that power couple by the press.
"Obviously they were looking for two people with a lot of influence on popular culture, on the youth, and they were looking for two movers and shakers. Frankly, I'm not surprised they came up with my name."
But Lopez, who is currently on a break for about six weeks due to an injury, added that dating Kardashian would be beneficial as he has a lot of time on his hands.
"I've got a lot more free time for magazine shoots, guest hosting duties on TV shows and stuff. They can contact my agent if they want to. I'm also the associate video guy. That's one of my new duties. Got a wealth of opportunities even though I've only got one hand right now."
Interestingly, the Lopez-Kardashian dating rumour has brought forth a number of hilarious tweets from fans. It appears that they too do not want him to date a Kardashian.
Here are a few gems.
If Khloe Kardashian really does have her eyes on Robin Lopez I think the #Blazers need to hide him somewhere until he can return from injury

— KJ Haefer (@ptbmaniac) December 20, 2014
Robin Lopez gotta run far away from Khloe man. — TROX. (@iamTROX) December 20, 2014
By audibly groaning and puking in his mouth? MT @talkhoops: Robin Lopez responds perfectly to rumors of dating Khloe Kardashian.

— Flagrant Fowl (@flgrntfwl) December 21, 2014