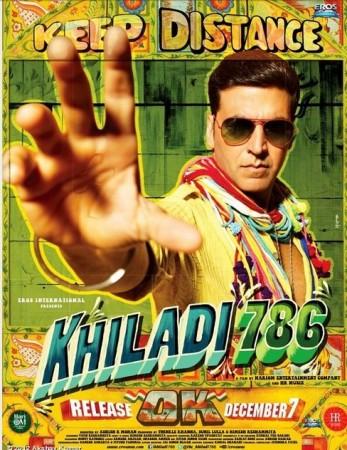 Action Masala film "Khiladi 786," starring Akshay Kumar and Asin Thottumkal, was released on Friday, Dec.7. Although the movie opened to a good start at single screens, it got mixed reviews from critics for its mindless comedy.
Director: Ashish R Mohan
Cast: Akshay Kumar, Asin Thottumkal, Raj Babbar, Mithun Chakraborty, Himesh Reshammiya, and Mukesh Rishi.
Here what critics' have to say about Akshay Kumar's comeback 'Khiladi' film:
Anupama Chopra of Hindustan Times said: "I've long maintained that Bollywood and Punjabi-ness are a perfect fit. Hindi films are designed to be larger-than-life, robust, and brash.
"The best are imbued with an inherent 'masti' or intoxication. But after watching Khiladi 786 - close on the heels of that other mind-numbing action-comedy, Son of Sardaar - I think it's time for Bollywood to give Punjab a little rest.
"If I wasn't so exhausted, I would have been offended. Box office figures suggest that many people enjoy this school of cheerfully moronic cinema, but Khiladi 786 really isn't my idea of a good time."
Taran Adarsh of Bollywood Hungama said: "KHILADI 786 borrows the 'Khiladi' brand, but has no correlation with the 'Khiladi' movies attempted earlier. KHILADI 786 has a skeletal plot, but is padded with ingredients that are aimed at the hoi polloi: The lead man bashes up 10/15 goons at one go like we swat mosquitoes, punches the wall in anger and the wall crumbles, even gulps down a man as if he we were consuming a soft drink from a straw [yes, you read it right!]. This is a mere sample of what you gonna see in KHILADI 786. So, be prepared!
"On the whole, KHILADI 786 is not for purists, but for lovers of hardcore masala films completely. If zany amusement, wacky humor and over the top entertainers is what you enjoy, this one's for you. Go, have fun!"
Rajeev Masand of CNN-IBN said: "Khiladi 786 stars Akshay Kumar, who breaks into a Himesh-voiced song at the drop of a hat. Normally that wouldn't be a problem, except that Himesh Reshammiya himself appears in this film, which means you have two people on screen with the same voice - Himesh Reshammiya's voice. Creepy, positively creepy.
"'Khiladi 786', with its pedestrian humour, inane plot, and hammy performances, begs the question: haven't we had enough? How many more times will charismatic actors help stupid films get made?
"I'm going with a generous two out of five for 'Khiladi 786'. Akshay Kumar fans may not complain. The rest might prefer the company of an aspirin."
Madhureeta Mukherjee of The Times of India said: "Bollywood's original Khiladi is back from self-imposed exile; still with a heart of gold, the pride of a true-blooded Singh and mighty-muscles of steel.
"Debutant director Ashish R Mohan's masala potboiler style is unmistakably reminiscent of his guru, Rohit Shetty's films. There are flying cars, flying bodies, flying fists and a flying Singh too. He shows flair for comedy, but for a film titled Khiladi', it lacks hard-core action, heat and the adrenalin rush that is synonymous with Akshay's Khiladi series (maybe intentionally). With a feel of hip-hop, rap, rock and our good 'ol Burmanda, Himesh's music pumps life and energy into the story.
"For those looking for some logic-less laughtime, groovy tunes topped with some todh-podh - this one could bring some action to your weekend."
Roshni Devi of Koimoi.com said: "Khiladi 786 is a mish-mash of Akshay Kumar's Welcome and Ajay Devgn's Son Of Sardaar. Even if it doesn't take the best of both worlds, you'll end up having enough laughs in the theatre, though it won't be memorable any time after that.
"If you want nothing more than an enjoyable action-comedy without much sense, give Khiladi 786 a watch."
Shilpa Jamkhandikar of Reuters said: "If it wasn't for the chorus of "Khiladi Bhaiyya" that accompanies Akshay Kumar each time he makes an entrance on screen, I would've forgotten I was watching Ashish Mohan's "Khiladi 786". I might as well have been watching "Singham" or "Golmaal" or any of the comedies earning a box-office billion that dot our cinematic landscape these days.
"Akshay Kumar in this film is akin to Akshay Kumar in all his recent films. There is nothing new here. Asin needs a makeover and some acting and diction lessons. There is one consolation though, "Khiladi 786" is better than 'Joker'."