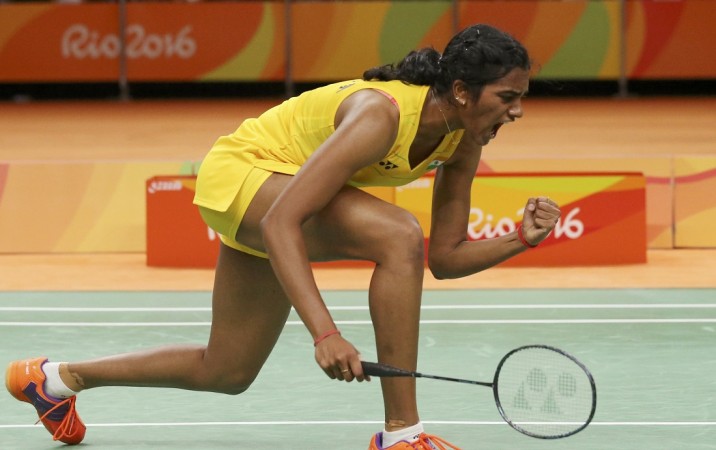 Indian star badminton player PV Sindhu, who clinched the silver medal for the country at the Rio 2016 Olympics, has been showered with words of praise, cash prizes as well as plenty of cheers from several quarters. The occasion gets even more grand now with the 21-year-old shuttler getting to receive a BMW car from cricket legend Sachin Tendulkar.
Sindhu returned to Hyderabad on Monday morning amid much fanfare and it has been a great sight to watch. She is also set to be conferred the Rajiv Gandhi Khel Ratna for her accomplishments.
"I congratulate her [Sindhu] for this historical achievement and bringing laurels for India. This is a huge milestone in Indian Badminton fraternity and it shows the strength of Indian badminton at the world stage," Badminton Association of India [BAI] President Akhilesh Das Gupta said. "This Silver Medal will surely motivate lakhs of children to take up the sport and inspire them perform above their ability.
"On behalf of BAI and Indian Badminton fraternity, I am congratulating her again for marvellous achievement."
PV Sindhu achieved several milestones with her commendable performance in Olympics 2016: She became the first ever badminton player from India to win a silver medal in the Olympics; the youngest athlete ever to win a medal from the country; as well as the first woman from the country to bag the silver medal. It is, therefore, fitting for Sindhu, who inspired billions with her performance in Rio 2016 on Aug. 19, to receive the best of gifts as she looks ahead to more glory.
The BMW car, which she will be receiving from Tendulkar, is being sponsored by Tendulkar's close friend and president of the Hyderabad Badminton Association of India, V Chamundeswaranath. Four years back as well, Tendulkar handed the keys of a BMW to Saina Nehwal, who bagged the bronze medal in the 2012 London Olympics.
"Sindhu will be gifted a BMW car by Mr Chamudeswaranath and his friends. Mr Sachin Tendulkar will be presenting the car to Sindhu," said Punnaiah Choudary, BAI Secretary (Tournaments).
Awards and gifts are pouring for the shuttler, who has entered billion hearts now. We have made a list of all the sops she is about to receive for her performances in Rio games:
Telangana government: Rs. 5 crore, 1,000 sq yards house site in the city, govt. job

Andhra Pradesh state government: Rs. 3 crore, 1,000 sq yard house site in the new capital city of Amaravathi

Bharat Petroleum Corporation Ltd (BPCL): Rs. 75 lakh, promotion

Delhi government: Rs. 2 crore

Badminton Association of India (BAI): Rs. 50 lakh

All India Football Federation (AIFF): Rs. 5 lakh

Madhya Pradesh government: Rs. 50 lakh