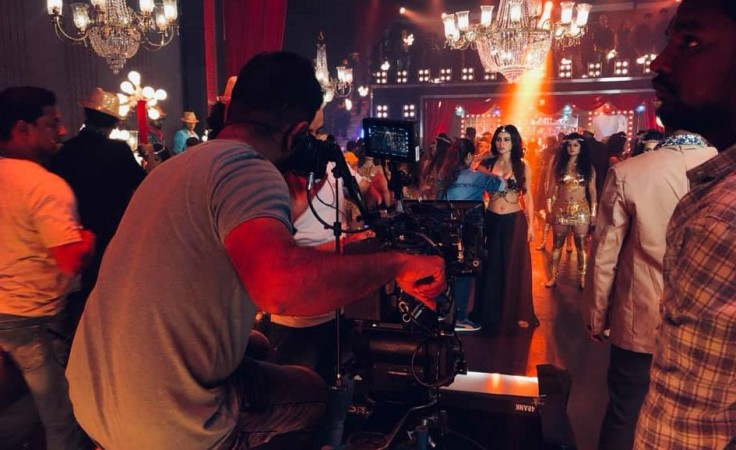 Rocking Star Yash's KGF has drawn the viewers' attention for many reasons and one among them is its visuals. Not just cine-goers, a filmmaker like SS Rajamouli is in awe of the cinematography handled by young and dynamic Bhuvan Gowda.
His journey in the film industry has not been smooth like many aspiring talents. His career got a major break when he got the opportunity to work in Prashanth Neel's Ugramm. Unfortunately, he did not get rightful credits, but his good work was rewarded as he bagged Srimurali's next movie Rathavara. It was followed by Ramesh Aravind's Pushpaka Vimana which won him a lot of appreciation.
Now, his third movie KGF has shown the signs of becoming a feather in his cap. As the countdown for its release has started, Bhuvan Gowda speaks to International Business Times India about his experience, challenges, technicalities and more in this conversation. Here are the excerpts from the interview.
Please tell us about your work experience in KGF.
KGF is Prashanth Neel's dream on which we all have worked for over three years. He was impressed with my work in Ugramm. So, I believe that was one the reasons why he chose me for this project. When we started the discussion on the project, I was little sceptical whether I could live up to his expectations, but he instilled confidence in me.
We started the locations hunt and travelled many places that include Kadapa in Andhra, Badami and Bidar, but nothing came close to our expectations mainly because of poor road connectivity. Finally, we decided to begin the shooting in the KGF itself and erected a set for about six months.
Even as the sets were being erected, I was wondering whether we can shoot here considering the unpredictable weather, sweltering heat and dust and there was not a single tree to be seen nearby if at all we want to avoid the heat, but Prashanth felt that we would get used to the situation once we start working there. We were more than willing to work, but the challenging task was to convince junior artistes and crew members to work.
We hired people from Bengaluru and many were happy to be part of the film as it was a big project, but about 90 per cent of them refused to work after the first day of its shooting as they could not work under such heat. Somehow, convincing them and making them part of the project became a daunting task for us.
Yes, we faced a lot of difficulties and it was a very challenging job at hand, but in the end, it turned out to be a great experience for all. We enjoyed every single shot.
To enhance the visual quality, did you use advanced equipment?
We have not used any advanced equipment for shooting and whatever we have used are basic in KGF. In fact, Jimmy Jib and steady cam had minimal use in the film. Basically, Prashanth Neel likes scenes closer to reality. According to him, whatever we see with our bare eyes should reflect on-screen.
We get loose frames when we use Jimmy Jib or steady cam. Wherever steady cam was required we opted for shoulder shots that helped us to get the framing perfectly. Around 40 per cent of shooting in KGF have over-the-shoulder shots. The entire film has been shot in low light and except for indoors scenes, we have not used artificial lights. No filmmaker or production house takes so much of risk. Even we should hail the artists who performed with fire source for light.
Technically, we have used ARRI Alexa SXT camera with the Master Prime lens. The speciality of this camera is that we can perfectly capture the subject. The reason why I opted for this camera is we are working on a film set in the 70s. Normally, scenes filmed outdoors are not close to reality. This lens makes our job easy to hide unwanted things from the frame and to make the background out of focus. And Prashanth is not a fan of lights and prefers natural lights. We have shot the complete film outdoors using natural light.
Even during the night shoots, we use lights only to commute and move around. In fact, all the lights were being switched off once the director says "action." We depended on firewood to light up the place and when we did not get sufficient light we burnt the shacks that we created for the shoot so that we have enough natural light to film the scenes.
We cannot keep the count of people injured on the sets for one or the other reason. I feel the credit for completing the shooting should go to every single person who worked on the sets with complete faith on us.
Which was the most difficult shot in KGF and how did you handle it?
To tell you about one particular sequence, we had planned a fight scene when the place is surrounded by dust. It was difficult to focus under normal circumstance and with the dust around, it was tough to capture the subject. With a proper planning, we successfully shot it and the audience will enjoy it in theatres.
Near-death experience, not once, but twice.
I saw death from close twice during the film. The first incident occurred when we were filing an action block. I was supposed to capture a lorry falling down from a hill, but things went wrong and it came down racing towards us in a fraction of seconds. I thought it almost hit me. Fortunately, I was lucky as it hit a tump and I got the crucial minutes to escape. Had it come straight, I would have been seriously injured or died on the spot.
The second incident occurred once again during the action sequence. The scene goes like this, people were firing non-stop using double barrel guns. Although dummy bullets were being used, it still has the power to seriously injure a person if struck from close. So, the junior artists were told to have used dummy bullet as it will not have much power. But someone had mixed the unused with used and fired at me and one bullet just nicked my tummy; if it had hit one inch closer the situation would have been different. Everyone on the sets was in a state of shock. Later, Prashanth told me that "your death is not written in KGF sets."
As a cinematographer, which is your favourite shot?
I like hand-held shoulder shots simply because of the free movement we have when filming scenes. I am not a fan of steady shots.
Wasn't it difficult to shoot without lights?
For a cinematographer, lighting is everything, but we have used only two per cent of artificial light that a normal commercial movie will have for its shoot.
That alone will give you an idea about the challenge we had in hands. Apart from the difficulties that we faced, there was also fear whether the audience would enjoy the film without lights. It was a risk that we were taking and I am happy that we have got the best output using the natural lights. People will definitely appreciate it.
For such a challenging film, how much does the co-operation of actors' matters?
As I mentioned you about Master Prime lense, we will not get the best output even if there is a minor variation in the movement of the subject. Imagine a scene where Yash will be mouthing lengthy dialogue surrounded by artists, once the shot is completed, if I say he was out of focus and request for one more take, any actor in his place would be annoyed but he was patient. He repeatedly told me that he was ready to give 10 more shots and for him only the outcome matters. It is his encouragement and director's support which kept me going all through the film.