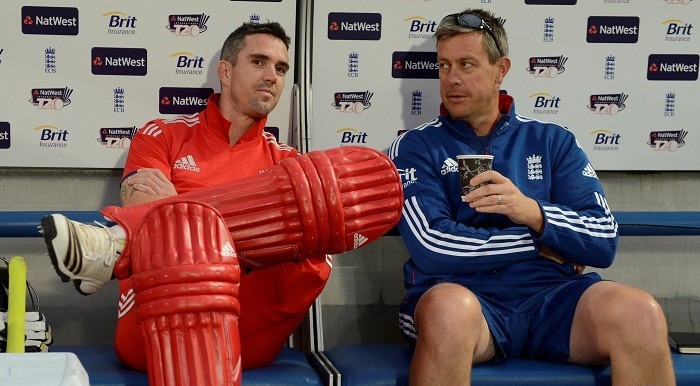 Seeing England fail so bad in the T20 series against West Indies, many wonder if a certain Kevin Pietersen could have been the answer. It is his power hitting, the ability to face spin and consolidate the batting order that was missed, one might think. But Ashley Giles, the England coach, does not think so.
"There is no point in talking about someone who is not here, because that doesn't work," Giles told BCC Sport. "Kevin is not coming back as far as I am aware and what we need to concentrate on is improving those personnel that we have."
Asked if Pietersen's sacking was a mistake, Giles said "No". It is known that Giles was one of the few people contacted by ECB before sacking Pietersen after the 0-5 Ashes whitewash in Australia. But in contradiction, Pietersen was meant to be in the World T20 sqaud as Giles had himself said KP was a "million-pound asset" for the team. Perhaps truth take detours.
"He's [Pietersen] a million pound asset at least, he might be worth a bit more than that," Giles had said in January. "He's a fantastic player and he has shown that in T20 cricket. He's not played that much for me in T20, but in other competitions he has shown how dangerous he can be."
It is true that Pietersen played only one T20 international in the past two years for England but his IPL performances and strike rate makes him an attractive package already. The flamboyant run-getter was the highest run-scorer for England in 2013 and was named man-of-the-tournament in England's World Twenty20 win in 2010. What England lack ahead of the World T20 in Bangladesh is that one star performer.
"We are going to try and win the tournament but, realistically, we are eighth in the world rankings, we've not played well at all over the last year, so we are the underdogs," Giles admitted. "Sometimes that's a good place to be, but at the moment it doesn't feel like that."