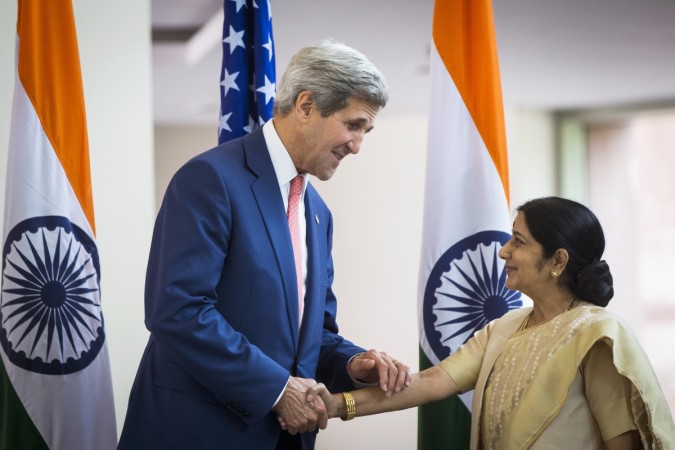 US Secretary of State John Kerry said Prime Minister Narendra Modi has a historic mandate for change and that the new Indian government's visions are not unlike President Obama's.
During discussions with senior Indian leaders, the top US diplomat made it clear that partnering with Modi, who was once treated as a pariah by the US, was one of the priorities for Washington.
"India and the US are indispensable partners in 21st century. There are incredible possibilities in our relationship. 'Sab ka saath sab ka vikas' is a policy we support very eagerly. It is not unlike Obama's policy," Kerry said.
Kerry's visit was the first high-level US delegation to India after Modi's election as prime minister and the top US diplomat unleashed an unabashed charm offensive targeted at Modi.
"The moment has never been more ripe to deliver on the incredible possibilities in the relationship between our two nations," Kerry said.
A joint statement issued by Kerry and External Affairs Minister Sushma Swaraj after marathon discussions highlighted the plan to step up cooperation in key areas including combating "terrorism, proliferation of WMDs, nuclear terrorism, cross-border crime and address the misuse of the internet for terrorist purposes, in compliance with respective laws."
"The leaders called for Pakistan to work toward bringing the perpetrators of the November 2008 Mumbai attacks to justice," the joint statement said.
Swaraj said she raised the issue of alleged US snooping on BJP leaders with Kerry and told him that friendly countries spying on each other was completely unacceptable.
"I raised this issue with Secretary Kerry. I told him when this news had appeared in the papers, Indians expressed their anger. I want to make you aware of that anger, I told him," Swaraj said.
Kerry took stock of Indian anger over the situation and assured the US government was in the process of reviewing all intelligence activities carried out by its agencies.
"We don't discuss intelligence matter publicly. But we value sharing of information regularly on counter-terrorism with India. US President Barack Obama clearly articulated that we fully respect and understand feelings expressed by Indian nationals," Kerry said.